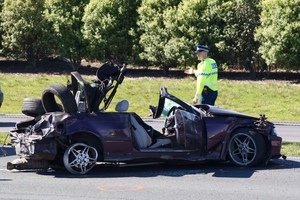 A man who allegedly spent his 32nd birthday robbing a bank with a claw hammer and crashing a stolen car into traffic has appeared in court this morning.
Michael Rewa Rai was remanded in custody when he appeared in Pukekohe District Court charged with robbing a Westpac employee of $3835, unlawfully taking a motor vehicle, failing to stop for police and dangerous driving causing injury.
According to court documents, Rai's birthday is September 2, the date of the alleged offending.
Rai's alleged accomplice, 25-year-old Joshua Ruatekaumatahi Johndalah Baker, jointly faces two charges of robbing the employee armed with a claw hammer and unlawfully taking a $10,000 BMW convertible.
Baker remains in hospital after the BMW, allegedly driven by Rai, sped up the Southern Motorway and ploughed into a ute, resulting in its 57-year-old driver Hugh Foster, breaking two bones in his neck, collarbone and left wrist.
Baker's case was called in his absence and he was remanded in the custody of Middlemore Hospital's Corrections Department for one week.
Rai, whose hand was heavily bandaged when he appeared before Judge Jane Lovell-Smith this morning, was remanded in custody until later this month while he receives legal advice.
Police said two partially disguised men entered the Pukekohe Westpac about noon on September 2, threatening staff with a hammer.
As they fled with cash, it is understood another driver tried to cut off a BMW while other members of the public tried to jump on the getaway vehicle.
Police spotted the car in central Drury, 15km away, and followed it twice around the roundabout at the intersection of Norrie Rd and Great South Rd.
Superintendent John Tims said the BMW then sped back towards the motorway, entering the north-bound lane at Drury before hitting a Ford ute near Papakura and rolling across the motorway.