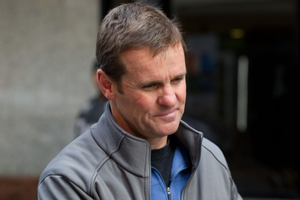 The parents of a young girl indecently assaulted by a family acquaintance say it broke their hearts to learn of the abuse.
Andrew Lever, 46, was sentenced in Auckland District Court today to 17 months in prison for three charges of indecent assault on the girl, who was aged between 9 and 10 at the time of the assaults.
Lever, who was employed at a school, knew the girl's parents and the offending took place in a private home. It was not related to the school where he worked.
The girl's father told the court his daughter's childhood had been destroyed and her innocence taken.
The knowledge that she had endured the abuse over a period of 20 months "absolutely breaks our hearts,'' he said.
"We feel that we have failed in our role as parents, that we didn't do our job, we didn't protect her from harm.''
He said his daughter often woke up crying at night, was emotional, clingy and needed lots of cuddles from her parents.
"We are dreading the day that she reaches an age when she realises exactly what he was doing,'' he said.
"At her age now, she knows what he did was wrong but it won't be until she is older that she realises the extent of the abuse.''
In sentencing, Judge Emma Aitken said the offending began in April 2011 when the girl was nine, and continued on two subsequent occasions.
Lever had been drinking and using illicit drugs, and taking anti-depressants at the time of the assaults.
He indecently assaulted the girl five times over the three occasions, the latest on January 26 this year.
Judge Aitken said the two assaults on this date showed an escalation in seriousness of offending.
She said it had caused significant harm to the girl and her family.
"Really for this young girl the effects of the offending rather than decreasing over time may well increase once she is old enough to understand exactly the nature of what has happened.''
Judge Aitken sentenced Lever to 17 months in prison, taking into account his guilty plea, his genuine remorse, and that he had already taken steps to enter treatment programmes for alcohol abuse and his sexual offending.
Defence lawyer Michael Talbot had argued for continued suppression of Lever's name, saying it would cause hardship to his partner and children, and that there was only media interest in the case because of his employment at a school, which was unrelated to the offending.
Holly Brown, lawyer for the school, also argued in favour of continued name suppression, saying it could cause stress to children who recognised Lever's name or photograph, and that it would harm the reputation of the school among those who recognised him as being a former employee.
Judge Aitken said she was not persuaded that those factors overruled the presumption of open justice, and allowed Lever's name to be published.
However the names of his partner and children, his occupation and the name of the school where he worked were permanently suppressed.
- APNZ