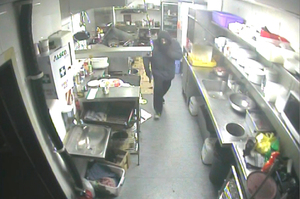 Two masked men smashed into a Christchurch bar with a tomahawk and forced a woman into a chiller before making off with a sum of cash.
Police were alerted to the aggravated robbery at Snafu Bar in Hornby by a staff member about 9.45pm yesterday.
Detective Sergeant Jason Stewart said two masked men, one of whom was believed to be carrying a pistol, broke a window with a tomahawk to gain entry to the bar.
The men then confronted the staff member, making her hand over a sum of cash before forcing her into a walk-in chiller.
The intruders then fled, leaving the area through Denton Park.
Mr Stewart said the staff member, who was not locked in to the chiller, was uninjured and able to raise the alarm.
Police have retrieved a tomahawk from the scene and some items of property at Denton Park.
They are also hoping to recover CCTV footage from the bar which could help to identify the offenders.
Mr Stewart said both men were reported to be wearing gloves, and one was carrying a backpack.
Investigators are appealing for anyone with information, or who saw any suspicious activity in the area, to contact Christchurch police.
- APNZ