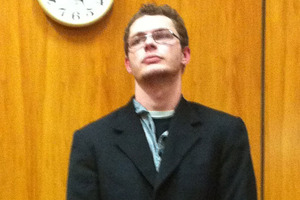 Nikki Roper smiled today as he was found guilty of murdering his ex-girlfriend Alexsis Tovizi in a jealous, revenge-driven crime.
When Alexsis' mother Cheryl Tovizi gasped "Thank God" at the verdict, Roper shouted "F*** up b****" and then leapt out of the dock and lunged at someone in the public gallery.
He was pounced on by four court security staff and dragged into the cells.
When he was brought back into the room at the High Court in Christchurch, Roper turned to the gallery again and said: "Just remember what happens when you nark on the Mongrel Mob, eh."
A jury took four hours today to agree he killed the 21-year-old mother-of-one with a sleeper hold at her Christchurch flat in 2010 - just five days after being released from prison where he was serving a sentence for choking her.
As he left jail in 2010, the unemployed 24-year-old he told an inmate: "I'm going to kill the b****".
Roper, who has 'Alexsis' tattooed under his left eye, had denied strangling the student social worker on the night of December 4, 2010 at her Stanmore Rd flat.
The seven day trial heard "overwhelming" evidence that Roper killed Ms Tovizi, according to the Crown in closing submissions.
Roper's defence claimed she died of natural causes related to binge drinking.
The Crown told how Roper was "obsessed" with his on-again-off-again girlfriend.
Her mother, Cheryl, had taken out a protection order out against him but said her daughter was often in touch with him.
When Roper was released from a prison on December 1, 2010, he allegedly told an inmate he was going to kill his girlfriend because she had cheated on him.
"Five days later, she was dead," said Crown prosecutor Pip Currie, adding it was a killing fuelled by jealousy and revenge.
Outside court, Mrs Tovizi called for an urgent law change to protect victims of psychological abuse, particularly where non-contact conditions are in place, and to update legislation to include modern communications.
"Abusers now have more ways of contacting victims than ever before. Our laws need to change to protect victims from the calculated way abusers use technology to continue to violate non-contact protection orders."
A lack of action by the Ministry of Justice, police and the courts is sending a clear message that condones abusers' ongoing use of "these power and control tactics".
"All the while, women and children continue to be murdered, beaten and abused. This is not OK - enough is enough."
Mrs Tovizi said Roper's actions have taken a mother from her son.
"Alexsis loved her three-year old son deeply, and this little boy has now been left with trauma and lifelong loss."
Anthony Bougham, Ms Tovizi's father, also welcomed the guilty verdict, saying: "The past two and a half years has been an extremely trying time for the family. We now turn towards the future but always remembering Alexsis as a bright, caring and funny young woman and mother."
Roper will be sentenced on July 3.
- APNZ