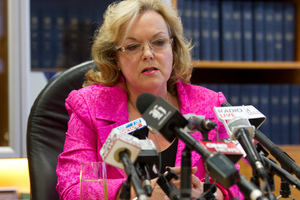 Justice Minister Judith Collins and the Justice Ministry are considering a law change to allow police to flag criminal backgrounds to family members and others.
Ms Collins said she would like to ensure police can provide information to people who might be concerned about the behaviour of someone they're in a close relationship with.
"For example, if you're living with someone, or going out with someone and you start to see some behaviour that made you concerned, you should be able to go to police and get the full details.
"I don't understand the idea that one day a matter is in court and it's public and public information, and it seems like a week later it's suddenly private.
"It seems bizarre to me, and I need to really be convinced that what we're doing at the moment is the right thing and I'm not sure that it is.''
Ms Collins said on her way to caucus today a report could take up to two months.
The call for disclosure of a person's criminal background came after Jeremy McLaughlin was convicted for his second killing of Christchurch schoolgirl Jade Bayliss.
He was deported to New Zealand after serving a manslaughter conviction in Australia - but was not subject to any release conditions.
Only when the guilty verdict in the Bayliss case was handed down could it be revealed that he had killed before.
On his arrival in New Zealand, police were advised of the manslaughter conviction, but McLaughlin was not subject to any release conditions or monitoring because the crime occurred in another jurisdiction.
Christchurch police confirmed they knew of McLaughlin's past, but were unable to tell anybody about it - even Jade's mother, Tina who became worried about McLaughlin's behaviour after ending a four-week relationship with him just weeks before he killed her eldest child.
Unaware of his previous convictions, she sought a trespass order against him.
- APNZ