Menzies Hallett's friends thought they knew him - until his murderous past came spilling out in court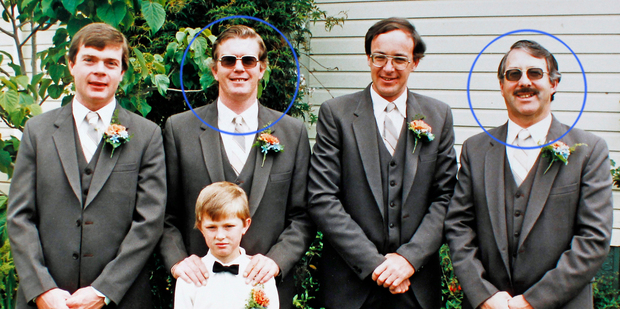 Yachtsman, musician, insurance agent, husband, father - and convicted murderer.
Friends and former associates of Menzies Hallett have told the Weekend Herald of a confident extrovert whose happy-go-lucky nature appeared to have concealed a dark past for more than three decades.
They could only watch in disbelief when it all came spilling out in the High Court at Rotorua over the past two weeks - the rage, the gun, the murder, the shock confession police couldn't use.
How could their old mate, now 72, be the same man who stood in the dock expressionless as a jury found him guilty of shooting dead an innocent family man at a service station nearly 34 years ago?
"Over the past few days I've been trying to get my head around the evidence presented at the trial, as the Menzies Hallett I know would not do such a brutal act to an innocent man," Gordon Clout said of his long-time friend.
But the whanau of Rodney Tahu, who held a private ceremony at their murdered loved one's gravesite on Thursday, know a different Menzies Hallett.
Menzies Reginald John Hallett came from a respected family - its name was given to Halletts Bay, on the eastern shore of Lake Taupo.
Taupo Mayor Rick Cooper described Hallett as having been "well bred" and his parents, Walter "Reg" and Effie Hallett, were well liked in the community.
Hallett married his first wife, Susan, in the mid-1960s and they raised two daughters in Palmerston North, Hallett working in his father's sporting goods store, before they all moved to Taupo.
A keen sailor, Hallett was well known at the local yacht club and throughout business circles of the sleepy lakeside town.
After their marriage broke up in the late 1970s, Susan shifted to Wellington and Hallett stayed in Taupo, working as a real estate agent and living at a bach at the back of his parents' house.
He had been excited about having both daughters come to live with him and his new partner Margaret Murray at a home he was renovating across town.
Hallett was preparing to head down to Palmerston North to pick up one of his daughters and some furniture when he got a letter from Susan, denying him custody.
Margaret said her partner was "not his usual happy self" after reading it, her "positive" and "full-of-life" man suddenly becoming worryingly depressed.
Angry and emotional, Hallett drove south to ask his daughter herself where she wanted to live, but fate and a rattle from his Ford Falcon 500 sent him to Turangi's Shell station, where nightshift worker Rodney Tahu was closing up just after 1am on August 16, 1979.
Mr Tahu couldn't help him and Hallett hit "flash point" - drawing his prized .22 revolver and shooting him once in the shoulder, then in the head at close range.
Susan Sharpe, who declined to talk to this newspaper, listened to her estranged husband confess this to her a few hours later, before he left her Wellington apartment and she alerted the police.
Rex Hawkins vaguely knew Hallett - but well enough to tell he and fellow detective Doug Scott were dealing with a much different person when he refused to come out of his car in an early-morning armed stand-off on a rural road off the Napier-Taupo Road.
Hallett wounded himself with a surprise blast from his shotgun - and Mr Hawkins still isn't sure whether he had tried to aim at police or to turn the gun on himself.
Hallett's boss at the time, Phil Gardner, earlier told the Weekend Herald of his shock when he discovered what his well-spoken colleague at his real estate agency had been involved in. "It was strange, especially when I got a call pretty early in the morning to put some clothes on and come up to the hospital."
When Hallett walked free over a lack of evidence because the law prevented his wife's damning testimony from reaching the court, he moved out of town - but not far.
Leaving one outraged community behind, Menzies Hallett adopted another. He became John Hallett of Rotorua, and got involved in life insurance.
Mr Clout, a Taupo accountant, had known him through their daughters and agreed to handle his books in the early 1980s.
He said Hallett remained fun, jovial and positive, but he suspected things weren't so bright underneath.
"Hallett has probably suffered in his own internal prison with a guilty conscience every day for the past 34 years."
Warwick Nunns met Hallett in the mid-1980s when he moved in with him, and believed it was on a fishing trip to Lake Waikaremoana that his friend eventually revealed his black past.
"It just came from totally out of the blue. He started off very matter-of-fact about it and he went through the tale and the narration continued and I could see he was very emotional about it.
"It appeared to me that he wanted to share it with me for some reason so I gave him credit for telling me for the right reasons ... Obviously there was regret there. I think he was very regretful."
The pair bonded - Hallett would eventually become one of the groomsmen at his wedding and Mr Nunns attended both the funerals of Hallett's parents - and found they shared outdoor interests, including going to boat shows and fishing.
"When John told me what he had done I really did see it as a total aberration. It was very hard to believe that this had happened but then of course I knew the John Hallett a few years after the event - I didn't know the person he was back then."
Hallett was hardworking, often coming home for dinner then returning to his office in central Rotorua where he wrote insurance policies.
He also carried on his love of sailing, and served as commodore of a Lake Rotoiti-based yacht squadron, sailing a Noelex.
David Jacks, a former Rotorua school principal, knew Hallett as a keen drummer who attended regional music camps and informal concerts.
"I'm sure there were rumours, but I couldn't accept them - he was there, he was a musician and he was a nice guy ... and we had no problems as far as we were concerned."
But Mr Nunns said that knowing his good friend had committed this crime had challenged him over the years.
"But I was never scared or worried about him. I could see that this wasn't in his nature as I knew him and I didn't see anything to suggest there was violence in his nature."
Beverley Emmerson, who met Hallett through a personal advertisement in the late 1980s, sensed the same. But her initial view of Hallett as "credible" and extroverted sharply changed when he again confided his past - and she walked away two months into the relationship.
Hallett met his second wife, Shona, in the late 1980s when she shifted into the region.
She declined to be interviewed yesterday, but her brother, Gary Watts, said there were some warning signs before the two were married.
"My nephew, who was from Taupo, he told Shona before they got married that he had a bit of a shady history, so they must have had a fair idea."
Mr Watts recalled his one-time brother-in-law as an enthusiastic photographer who had the latest gear and "always had flash cars".
"He's quite an interesting character, and he really sucked us in ... We thought he was a genuine guy."
Not long after divorcing in the early 1990s, Hallett met his current wife, Joan, a British expat who had been a theatre nurse.
It is not known whether Hallett told her about the murder, and she refused to comment when approached at their brick unit in Carnot St, Rotorua.
Mr Nunns said Hallett worked in other jobs, running a screenprinting business, working as a Herald delivery agent and later as a finance and mortgage broker, but never achieved the wealth he sought.
He was receiving superannuation but still connected with the real estate industry when time caught up with him.
Detectives approached him as he was buying a corned-beef sandwich at a local bakery - a law change enabling Susan Sharpe to testify triggering a year of case-building.
A neighbour told the Weekend Herald how he had accidentally driven into her car, and her surprise when he told her of his arrest while sorting out the insurance details.
Mr Nunns last spoke with Hallett this week in the court cells, directly after he had given evidence at histrial.
Hallett apologised to him for putting him in that position, he said.
"There was only one word that sprung to mind - and that was just that he looked a little resigned."
Mr Jacks said he was taken aback when his friend's face was suddenly splashed across the media.
"The whole thing in a way seemed out of character ... Menzies Hallett murdering someone? You just couldn't believe it."
But Colin Hair, who married Rodney Tahu's widow, Hana, two years after the murder, wasn't so shocked.
He had always known what Hallett had done, and that he was living nearby - but he chose to keep from Mr Tahu's sons the identity of their father's killer.
"I think time went on and we just got on with our lives ... but it never went away, it was always there in the background, and from time to time it would raise its head," he said yesterday.
"At the back of my mind, there was always the thought that if they knew who this guy was, and what if they happened to bump into him in the street, how would they react ... I was conscious that the outcome of that might not be good for anybody."
And Mr Hair was not surprised Hallett had been able to live with his secret for so long.
"It certainly wouldn't be part of my make-up to be able to do that ... to just walk away and say, 'Ho hum, I don't care about anyone else.'
"I think it's just indicative of the opinion that I have formed over the last couple of weeks ... that Hallett has always thought the world revolved around him."

Marriages
Susan Sharpe
Hallett married his first wife in the mid-1960s. The couple had two children.
Shona Watts
They wed in the mid-1980s.
Joan Hallett
British expat and former theatre nurse.