Police appeal for sightings of speeding vehicle near the scene of shooting.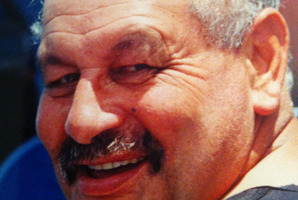 The family of a roadworker gunned down on an isolated South Waikato road were last night grieving for a cheeky, lovely and gentle man.
George Charles Taiaroa, 67 - a husband, father and grandfather - was shot dead while holding a stop-go sign on Tram Rd in the Kinleith Forest area about 3.20pm on Tuesday, after allowing a logging truck to cross a bridge.
Police were last night hunting Mr Taiaroa's killer as his whanau and close friends gathered in Hamilton to wait for the return of his body.
He is survived by his wife, Dr Helen Taiaroa, their four children and four grandchildren.
Family friend Mereana Selby said Mr Taiaroa's death was "completely ridiculous" and his family were trying to get their heads around the situation and the shock of him being shot in cold blood.
A family statement said: "This is an unexpected and shocking event for everyone concerned. The family would like to acknowledge the overwhelming support they have received," she said.
"He was a loving father, husband and grandfather."
Mr Taiaroa, who was living in Hamilton, was from Otaki and owned a house there with his wife. He had links to the Ngati Raukawa people of Otaki.
Mr Taiaroa's body remained at the scene until late yesterday, when it was taken for a post-mortem. He is expected to be taken to Ngatokowaru Marae in Levin tomorrow for his tangi.
Witnesses reportedly saw Mr Taiaroa falling to the ground immediately after the incident as a blue four-wheel-drive vehicle, believed to be a Jeep Cherokee, rushed away from the scene.
A motorist tried to tend to his wounds but he died at the scene. Last night a staff member of the Otaki RSA said colleagues and relatives held a karakia for him upon hearing the news of his death.
On a Facebook page, one man called Mr Taiaroa's killer "f***en gutless".
"... you just killed the nicest gentle man I've ever known. RIP George, you didn't deserve that bro," he said.
"He was a crane driver at HEBs ... sad thing is, he shoulda [sic] been retired, but just loved his job."
Mr Taiaroa had worked with road construction crews for HEB Construction and had been staying off and on at the Pukeko and Bull Tavern on SH1, a stone's throw from the $34 million Atiamuru Bridge project.
A local woman said he liked a steak, a beer and a good laugh.
"He was pretty cheeky, a chirpy, lovely man who always had a smile and a word to say," she said.
"We were supposed to meet up for a beer on Saturday and then this happened, it's awful, just so tragic."
Detective Inspector Tim Anderson said it was too early to establish what motive, if any, there was in the attack, which he described as "isolated".
He said police were following up on a number of vehicles which could have been involved and wanted people who were in the Atiamuri area and its surrounds on Tuesday to report to police any vehicle seen speeding or driving erratically between 2.30pm and 4pm.
Can you help?
Anyone with information about this shooting can contact Taupo Police on (07) 378 6060. Alternatively, information can be provided anonymously via Crimestoppers on 0800 555111.