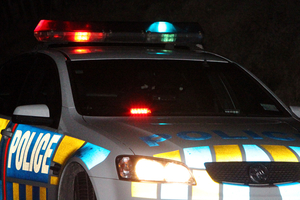 A man impersonated a police officer when he pulled up at a house in a car with flashing red and blue lights and told residents to put their hands in air, say police.
Benjamin William Marshall from West Harbour is facing three charges of impersonating a police officer, and appeared at the Waitakere District Court yesterday.
The offence carries a maximum penalty under the Police Act of 12 months in prison and a fine of $15,000.
According to police charge sheets in court, Marshall drove a white Mitsubishi Galant with flashing red and blue lights. The car was modified to make it appear as if it was a police car.
The standard police patrol car is a Holden Commodore, although there are other types of vehicles in the national fleet.
The unemployed 21-year-old pretended to be a police officer when he went to a home in west Auckland and shouted at the residents to put their hands in the air.
According to the charge sheets, police say Marshall was not alone. A co-accused is due to appear in court on Friday to face similar charges.
A police spokesman said authorities take the issue seriously.
He said anyone approached by a person they believe is posing as a member of the thin blue line can ask for identification.
They can also call the police communication centre to check if the police officer is who they say they are.
In a separate case before the courts earlier this year, Labour Arepa Tauariki was sentenced to seven months home detention for impersonating a police officer. He and a friend pretended to be police officers so they could rob west Auckland businesses.
The court heard the offences occurred when Tauariki and his friend went to a massage parlour in Mt Albert, Auckland.
Tauariki's friend flashed a badge at one of the workers, and Tauariki took down another woman's details while the friend went through handbags.
The friend is yet to be sentenced.
Police statistics show there were 25 people charged with impersonating a police officer between June 2011 and June last year.
- APNZ