Hunter shot dead when mistaken for deer.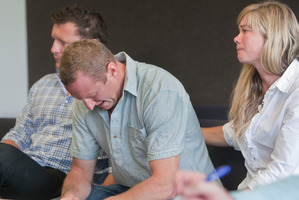 The partner of hunting victim James Dodds says the only way to prevent hunters shooting each other is to stop them splitting up.
Gabrielle Molloy made the call at a coroner's inquest in Rotorua on Friday into the death of Dodds.
Molloy is studying for her firearms licence and said she wanted the Arms Code to include rules preventing hunters from shooting if they were split from a hunting companion.
Dodds was killed on September last year when his friend Henry Robert Worsp shot him after mistaking him for a deer in the Paeroa Range south of Rotorua.
Last month Worsp, an outdoor safety expert, was convicted of careless use of a firearm causing Dodds' death.
Three witnesses were called at Friday's inquest.
Coroner Wallace Bain was told Worsp shot Dodds after they parted while hunting fallow deer, which are smaller than red deer and can be white, light brown or almost black.
The officer in charge of search and rescue, Detective Sergeant John Wilson, told the hearing Worsp was convinced Dodds was behind him.
He then saw what he believed was a fallow stag. Worsp tried to confirm it was a stag by moving off track to get a clearer view and used his rifle telescope. He was confident he could see antlers, the deer lower its head out of view and the deer's back and shoulder. Worsp then took his shot. What he was actually watching was Dodds.
Wilson said Worsp could have mistaken Dodds for the stag because of a homemade backpack he was wearing and the colour of his hair.
Worsp held back tears as he gave evidence about the day he "shot and killed my friend James Dodds".
He could not explain how he had mistaken his friend for a deer.
"I could see a deer ... I could see its back and I could see it moving and I was very certain it was a deer.
"That wasn't enough for me to shoot.
"I can't understand it or explain it."
He said he knew he did not accurately identify his target, which was one of his biggest regrets. The other was splitting up with Dodds.
He told the court he had considered himself to be a safe hunter.
"I was well aware of the risk of shooting another person but I can't say I ever expected it would happen to me.
"The obvious mistake I made was not identifying my target. I thought I took long enough in the circumstances and believed 100 per cent that I was looking at a deer."
He urged hunters to not split up with their hunting companions.
Molloy told Dr Bain the incident was the most "horrific"thing she had gone through in her life and she had talked with Worsp many times about what had happened.
Dr Bain reserved his decision.
For more articles from this region, go to Rotorua Daily Post