Compensation gone as man wrongly convicted of child rape turns to bottle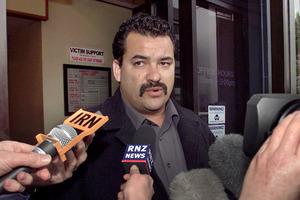 Twelve years after being awarded nearly $1 million compensation for wrongful imprisonment, David Dougherty, 45, is broke, an alcoholic and again wanted by police.
A warrant was issued for his arrest after he failed to appear in court this week to be sentenced for stealing a woman's wallet.
The Herald on Sunday was told his absence was because he was in rehab dealing with alcohol dependence, stemming from his time in prison as a wrongfully convicted child rapist.
Dougherty's neighbour and friend, Don Newman, said Dougherty was a self-confessed alcoholic who relied on the country's welfare system.
Dougherty was jailed for seven years and nine months in 1993.
DNA proved him innocent, but not until he had spent almost four years in prison as one of society's most hated criminals, a child sex offender.
Defence lawyer Mark Alderdice said of the latest trouble: "He should have informed the court of his whereabouts. He didn't actually have a lawyer so I was just going to represent him on the day."
Alderdice said he hoped Dougherty was getting the help he needed.
"It is good he has been able to get help. This is a good outcome to a bad situation."
After getting $870,000 in compensation in 2001, Dougherty's partner persuaded him to move to Ashhurst.
Newman said the move dislocated him from his support and put him in a town "where no one knew him".
He gave money to family members in "$30,000 bunches".
"He moved into this big five-bedroom place next door with his partner and all of her grandchildren after he lost his house in Ashhurst.
"He was great with literature but not so much with arithmetic. He just gave and gave until the bank said 'there's no more to give'.
"This to me is just absolute lunacy on behalf of the New Zealand justice system. Why was there not a trustee appointed to him for as long as he needed?"
The two men's friendship flourished.
"I often met him at the clothesline where he would be doing the washing. He always kept that house immaculate. It was David who held it all together in the home."
Newman said his neighbour was an "honest chap" who would often borrow books, newspapers and tools.
"I trusted him. He returned everything and never in the two years he lived here did anything ever go missing," he said.
Newman believed much of Dougherty's offending was driven by his desire for alcohol.
"He would ask me for money to buy something to drink but I never did. The poor bugger was probably really hurting too. But he would often thank me for it the following day."
After a court date in November, Dougherty told the Manawatu Guardian he had mental health issues as a result of his imprisonment for sexual offending. He said tearfully he had been to prison before but being in jail for that was "a horrific nightmare".