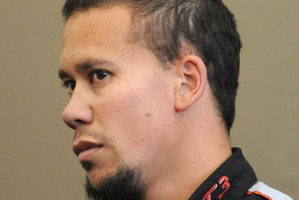 A man who sexually assaulted a young woman in a Dunedin park last September was on parole at the time from a lengthy prison sentence for serious sexual offending in 2005, the High Court in Dunedin heard yesterday.
Shaun Kahu Leonard, 29, had served seven years of a nine and a half year jail term for a rape with characteristics amounting to deviancy and sadism and had been out of jail only four months when he attacked the 25-year-old Dunedin woman on September 24 last year.
Yesterday he was sentenced to preventive detention for that offence and must remain in prison for at least five years.
Leonard went voluntarily to his probation officer the day after the attack and pleaded guilty two weeks later to a charge of assaulting the woman with intent to commit rape. His explanation was he had gone to the park, armed with a knife, with the intention of finding a female to rape - because he could not "get a missus".
A district court judge sent the case to the high court because he believed the seriousness of the offending and the interests of public safety could require consideration of preventive detention. That sentence allowed the court to set a minimum period an offender must remain in prison and also meant an offender could not be released until the parole board was satisfied he did not pose a significant risk to the community.
Justice John Fogarty said yesterday he was satisfied, on the basis of detailed psychiatric and psychological reports, that Leonard would commit another serious sexual or violent offence if given a finite sentence allowing his release in 51/2 to 61/2 years.
Crown counsel Richard Smith said it appeared Leonard had - "to a degree" deceived psychologists and other professionals in prison as they believed he had made some gains in his attitude before his release.
Of the two psychiatrists who interviewed him after his guilty plea to the September offence, one saw him as a young man with the potential to improve, but another disagreed, expressing concern he appeared to obtain gratification from sexual violence. Defence counsel Anne Stevens argued the September offence did not have the deviancy and sadism features of the 2005 attack which had been against a young woman Leonard did not know but who lived in the same apartment block. And she urged the court to give him an opportunity to make positive behavioural changes, with a finite term of imprisonment.
But Justice Fogarty said the clinical reports appeared to identify a need for sexual release and a history of deviant or aggressive thought patterns, exacerbated by Leonard's psychiatric background, as the motivation for the attack. There were a lot of similarities between the two attacks.
"That's what's disturbing. He had just come out of prison and offends in a similar way again."
And the fact Leonard thought he could get away with attacking a woman in broad daylight in an open park was, in some respects, indicative of a very serious state of mind. It showed "a degree of dissociation with reality" the judge said.
Reports from psychiatrists and psychologists detailed Leonard's long history of clinical interventions, something the judge said was directly relevant to his ability to change during the next few years. From early childhood, he had behavioural problems including impulsive oppositional behaviour, speech difficulties and, at 13, was diagnosed with oppositional defiant disorder. At 15, he was referred to Child, Youth and Family services because his parents were concerned about his violent outbursts, including assaulting his mother. He was later referred to mental health and alcohol services in Dunedin and Timaru and he had also received psychological treatment in prison from 2009 until his release in May last year.
What was of concern to both psychiatrists was not only whether Leonard was able to change but whether he was willing to change, Justice Fogarty said.