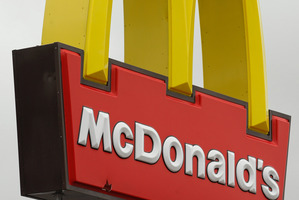 A drunk man who walked behind the counter at a McDonald's Restaurant in Masterton last week clutching a black-handled kitchen knife was convicted of possession of a knife in a public place at Masterton District Court yesterday.
Joseph David Stewart, 22, of Masterton pleaded guilty and was sentenced to 6 months supervision.
A police summary said about 2.20am on February 28, Stewart was on Chapel St, Masterton, and was heavily intoxicated.
Stewart had a large kitchen knife with a 19cm blade, which was concealed down his shorts. He walked into the McDonald's restaurant, pulled the knife out and walked behind the counter with the knife in his right hand.
He made no threats or demands and was not aggressive. He was asked to leave by staff, which he did. He was found walking on Chapel St.
After seeing police he tossed the knife into a garden. When Stewart was spoken to by police he admitted to walking into the restaurant with the knife.
In explanation, he said he carried the knife for protection and he didn't know why he had walked behind the counter.
Stewart's lawyer, Louise Elder, told Judge Michael Behrens that her client had suffered from alcohol and drug problems in the past. She said alcohol in particular was a major issue which he was struggling to deal with and he needed support.
Judge Behrens decided on a sentence of supervision and a fine on condition that Stewart completed any alcohol and drug programmes which are recommended by the probation services. He was also fined $300 and ordered to pay court costs.
For more articles from this region, go to Wairarapa Times-Age