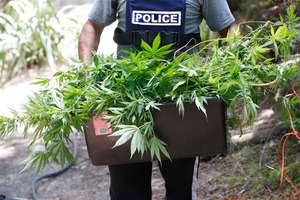 An intensive police blitz against cannabis has seen more than 35,000 plants sprayed or ripped out across Northland in the past two months and a sophisticated underground growing bunker uncovered.
The buried shipping container, complete with a lighting and humidity system on a timer, was found by police during a search warrant at a Waimamaku home during Operation Ruth.
The container, which even had a hidden entry, was buried beneath the deck of the home.
Inside, 25 mature plants and another 142 smaller plants were thriving in the sophisticated set-up. Officers scouring the property also seized $3000 cash.
A 39-year-old man was arrested in relation to the bunker and charged with cultivating cannabis and will appear in court. There were 68 arrests during the operation.
Police say "excellent" tip-offs left on a dedicated crime phoneline - 0800 Crimestoppers - helped make the operation a success.
During the operation police notified Child Youth and Family after becoming concerned for the safety of children at three separate properties.
The head of the operation, Detective Sergeant John Miller, said after stints in the Far and Mid North, plus days in Whangarei and Kaipara using a spotter plane and a helicopter and police teams on the ground, 35,315, cannabis plants had been taken out of circulation.
That included 9000 plants in the Far North alone being sprayed with weed killer.
Meanwhile, in Whangarei, a stolen $10,000 Ducati motorcycle was recovered and the owner is being contacted.
Seven firearms were seized during the busts, along with stolen property and a stab-proof vest from a gang member's house.
Mr Miller said the dry weather had had little impact on the cannabis crops growing under native bush canopy and they appeared to be flourishing. One of the biggest crops found was in the Far North, where about 1100 plants had been thriving outdoors. Eight indoor cannabis operations had also been torn apart. One was discovered in the roof of a Hikurangi home while another one was found beneath a kitchen sink at a Whangaruru home.
Mr Miller was not surprised about the number of plants discovered in the region. He was unable to quantify the impact the operation may have on the illegal drug trade in the region but said anything that reduced harm to the community was positive.
Last year the annual illegal drugs haul in Northland equated to more than $100 million in social harm. The figure is based on the Drug Harm Index, designed to help police and other agencies concentrate resources in areas where greater harm is caused by drugs.
The harm relates to a variety of costs linked to crime, lost work output, health services, court, prison and psychological costs such as reduced quality or length of life.
BY THE NUMBERS
35,315 - cannabis plants pulled up or sprayed
68 - arrests
50 - tip-offs to Crimestoppers
7 - firearms found
3 - families referred to Child Youth and Family
1 - stolen $10,000 Ducati motorbike recovered
PROFITS: Officers scouring one property seized $3000.
For more articles from this region, go to Northern Advocate