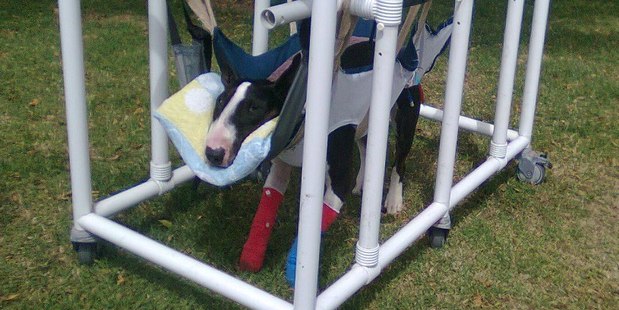 A solo mother has been left with a $10,500 bill after her pet's neck was broken in an attack by another dog whose owner has failed to fulfil a promise to foot the veterinary bill.
Vivienne Kent was walking her dog Booker on Mt Victoria at Devonport when she heard growling and looked up to see a great dane bearing down on them.
"It launched in the air and hit us both and knocked us down the mountain. I wasn't actually physically hurt at all, apart from some scratches and bruises, but I was just totally shocked, and my dog was screaming.
"And the great dane was standing over it and trying to bite him, and I squirted water in his face and screamed and shouted and the owner came and grabbed him."
Booker, a 6-year-old English bull terrier, suffered a broken neck in the fall. He was eventually sedated by a local vet and helped off the mountain by a council dog control officer and several members of the local fire brigade.
"It was horrible, it was really traumatic," Ms Kent said. "I couldn't stop hearing it in my head for days afterwards. That screaming noise that animals make when they are in awful pain.
"It's just awful."
The attack was especially upsetting for Ms Kent's autistic son Ossian, 17, who is very close to Booker.
The dog was operated on by Dr Richard Jerram from Mt Albert's Veterinary Specialist Group, and Ms Kent said he had made a remarkable recovery since the February 5 incident. He is now able to walk by himself, she said.
The great dane now has a menacing order against it, but Ms Kent said she did not push for it to be destroyed.
Its owner was initially extremely upset and apologetic about the attack, and she later went to the veterinarians and said she would settle the bill, Ms Kent said.
When that did not happen, Ms Kent tried to contact her, but without any reply was forced to borrow $10,000 from a family member, which she said would be difficult for her to repay.
Booker's recovery is ongoing and a follow-up x-ray in a couple of weeks will cost another $350.
"I don't know if she may change her mind and decide to begin payments, because the dog control officer has been talking to her. But she won't talk to me. And it was a month ago and she hasn't given us a cent."
Despite being left out of pocket, Ms Kent said she was thankful for Booker's recovery, and that his happy and mellow personality had not changed as a result of his injuries.
Online: www.givealittle.co.nz/cause/booker99
Facebook: www.facebook.com/Booker.givealittle