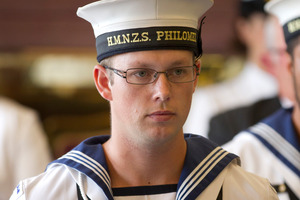 The Navy said the "vast majority" of its servicewomen are treated with respect, after a sailor was sacked and sentenced to six months in a correctional camp for filming naked females in showers on a warship.
Electronic technician David Timothy Simpson, 28, pleaded guilty to 25 charges, including making an intimate recording, when he appeared at a Court Martial in Devonport, Auckland today.
Judge Anne Gaskell and three Navy officers determined that the 28-year-old should be dismissed from the service and sentenced to a term of six months in a military correctional camp.
Wide-ranging suppression orders prevent APNZ from reporting who was on board, their ages, the name of the navy ship, where it was heading and when the offending took place.
Judge Gaskell also suppressed the names and identifying details of four witnesses who gave evidence for Simpson and who called him honest reliable and a "good guy".
The media were not given an opportunity to be heard on the orders.
The hearing heard Simpson removed a panel at the back of one of the cubicles in a male bathroom and walked down a narrow walkway that shared a wall with the women's ablution block.
By peering through a crack in the wall, he was able to film women in the shower and on the toilet with his iPhone.
He visited the spot at least seven times and on one occasion left his boots in the cubicle to make it look like he was sitting on the toilet.
According to the agreed summary of facts, Simpson made at least 12 videos over two days and later transferred them to his laptop.
He was caught out when three other crew members noticed the panel had been disturbed and found him in the wall cavity.
The matter was referred up the chain of command.
Military police seized Simpson's laptop and iPhone and found at least 49 videos with a total running time of 98 minutes. Military prosecutor Captain James Kennedy-Good told the court that the fact Simpson had deleted the videos from his phone showed that he knew what he was doing was wrong.
He said Simpson's offending was premeditated and had damaged the reputation of the military and the Navy and undermined morale.
Simpson's lawyer Major Peter Brock said there was no evidence his client was planning on showing the videos to anyone else and he intended deleting them before getting back to the Devonport navy base.
Major Brock said Simpson had overheard colleagues talking about the hole in the wall and had decided to investigate but could not see much because he had lost his glasses.
"He was there to see what he could see and get what videos he could get."
Shortly before sentencing, Simpson was marched into the hearing under Military Police escort and made to stand before Judge Gaskell.
She said the court was left with no other option then to dismiss Simpson from the Navy - cutting his 15-year contract short by 13 years.
"You would never be accepted in the Defence Force as someone who could lead others, given you have acted in this way."
Although some witnesses had spoken of Simpson's Christian upbringing and said his offending was out of character, there was also evidence he had shared pornography with other sailors.
"Perhaps what your friends and family think is out of character is not so out of character."
She encouraged Simpson to get counselling.
Outside court, Navy spokeswoman Lieutenant Commander Vicki Rendall said Simpson's behaviour was inconsistent with the Navy values of commitment, courage and comradeship.
Asked how women were treated in the force, she said: "The vast majority are treated in association with those values - they are treated as comrades and treated with respect."
- APNZ