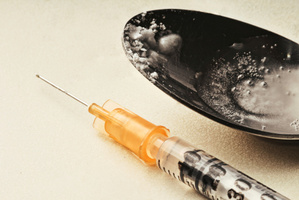 A New Zealander who injected a friend with heroin at a drug-fuelled Sydney stag night has pleaded guilty to manslaughter.
Four years ago Kiwi Daniel Gray and Greg Wood, set to be the best man at another New Zealander's wedding, injected each other with the Class A drug.
According to a statement of facts, alcohol, cannabis and cocaine had been consumed during the stag night and Mr Wood and Gray were eventually refused entry to a bar.
Mr Wood, who was best man and had travelled with his wife from London for the wedding, told Gray he wanted to try heroin, according to the statement reported by news.com.au.
"Neither of them had used the drug before," the statement of facts said. "[Gray] was initially resistant but eventually agreed."
The men bought heroin in a small purple balloon for A$100 ($123) in Kings Cross and returned to their Haymarket hotel about 7.50am where they injected each other "because they were too intoxicated to inject themselves".
Gray said in his statement that Mr Wood, 33, then fell asleep and was snoring loudly. Several hours later, another friend walked into their room and found Gray frantically trying to resuscitate Mr Wood. He was pronounced dead at 10.30am on January 4, 2009.
Paramedics reported Gray saying: "It's all my fault. I take responsibility. I will call his mother. I should not have let him talk me into going up the Cross."
Gray was charged with manslaughter after an inquest into Mr Wood's death in September 2011.
A post mortem examination found Mr Wood died of "multiple drug toxicity" and he also had Ecstasy and cannabis in his system. He will face a sentencing hearing in May.
During the inquest, Mr Wood's widow, Kirsten, wrote to New South Wales state coroner Mary Jerram saying she and the family did not want anyone held responsible.
"Myself, Greg's family, and I'm sure Greg himself, would not want any further action as a result of his death to be taken against anyone, including Dan Gray."
She added: "I have often thought how could he have been so selfish and stupid to be taking a multitude of drugs that evening. But, to be honest, that was Woody."