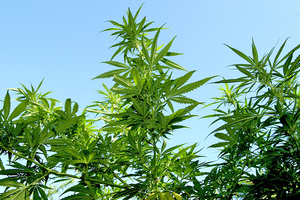 A fleeing driver who thought he had evaded police yesterday instead led them straight to a cannabis growing operation.
Highway patrol officers tried to pull over the 38-year-old Himatangi man about 5pm yesterday after he was detected driving at high speeds on Highway 56, near Rangiotu.
When they signaled for him to stop, the man fled in his car and police followed him to the address.
"Officers tracked the man to a rural property and upon arrival they detected a strange smell lingering around the house. After carrying out a search of the house officers discovered an indoor cannabis growing operation," senior sergeant Kris Burbery said.
More than 70 cannabis plants were discovered in three rooms of the house, several of which were ready for harvesting.
The man is facing charges relating to the cultivation of cannabis and possession of equipment to cultivate cannabis and will appear in Palmerston North District Court today.
Police are warning landlords to keep an eye out for tell-tale signs including residents increasing fence heights, curtains closed during the day, constant bright lights, continually running fans and people visiting at all hours of the day.
Anyone with information about drug cultivation should contact their local police station or call Crimestoppers anonymously on 0800 555 111.
- nzhe