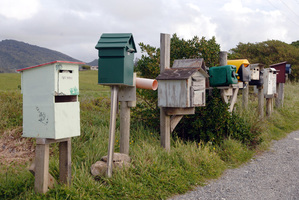 Mail thieves have stolen cheques meant for bill payments worth around $100,000 from at least 16 people in rural Waikato, police say.
Area commander Inspector Dana McDonald said thieves targeted mailboxes with small flags raised that signalled to posties there was mail to collect.
Once they had the cheques, the offenders amended the amount they were written out for and tried to cash them at banks.
"When you think about it, for dishonest people stealing cheques is pretty easy. All you have to do is take note of the mailboxes with flags raised and get to them before the scheduled postie's run," Mr McDonald said.
Police believed they were dealing with an isolated issue in Coromandel but the problem is now thought to be widespread.
"Initially, properties on the Thames Coast Rd, north of Thames, and further south towards Ngatea were affected, with thieves cashing in cheques to the value of about $12,500 at a time.
But since then, speaking to colleagues in other districts we have identified victims from around Auckland, Taupo, Palmerston North and Canterbury."
So far 16 victims had been identified who had lost about $100,000.
Police and banks have identified two people of interest through CCTV footage.
"Police urge rural residents to report suspicious behaviour, particularly around rural mailboxes, and if you have the opportunity, take down registration numbers and descriptions of people," Mr McDonald said.
They are advised to pay their bills electronically instead of by post.
Anyone with information is asked to contact Detective Rachel Holmes on (07) 867 9621.
- APNZ