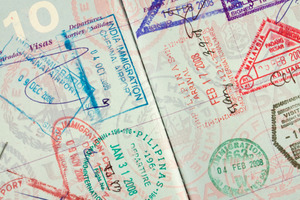 The number of Indians staying in New Zealand past their visa entitlements has increased significantly, estimates show.
Overstayers were up 97 to 678 between May 2011 and August last year, despite overall numbers dropping 986 to 14,044 from May 2011.
An immigration adviser said many Indian nationals who see the student visa as a pathway to residence but cannot find employment are overstaying their visas.
"Residency is seen as an incentive to students from India for choosing to come to New Zealand to study," said Tika Ram, an adviser who specialises in Indian cases.
Of those who had overstayed, 192 had been on a student visa and it is believed that many of the 263 who stayed beyond what was permitted on their visitor visas could possibly be spouses of Indian students.
Immigration said it was encouraging overstayers to leave at their own expense, but the Crown paid if they refused.
The agency spent $1,623,886 in removal costs last year, but recovered only $206,990.
Immigration's fraud and compliance manager Peter Elms said those deported from New Zealand faced a five-year ban, and would have to pay their deportation cost before they can be considered for any visa.
Arrivals of Indian nationals was up 38 per cent. Mr Elms said the 2012 figure of 14,044 overstayers was "a significant decrease" on the previous figure of 15,030 taken in May 2011.
Overstayers from India
678 India (up 97 from May 2011)
192 were on a student visa
263 were on a visitor visa
184 were on a work visa
75 increase in number of overstayers age 18-24
(Immigration estimates 2012).