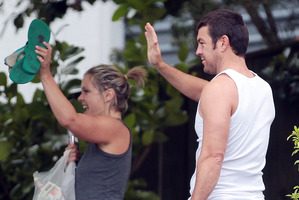 Anna Guy is putting her life back together in the company of a marketing executive who is also from a small town bordering Manawatu.
Brent Jameson, formerly of Dannevirke but now a senior marketing specialist with AMP in Auckland, owns the house he is sharing with Anna and her four children on the North Shore.
There has been much speculation about Guy's new partner since she confirmed last year her split with Ewen Macdonald, the man accused but acquitted of murdering her brother, Scott Guy.
She confirmed last weekend to the Herald on Sunday that she had moved from Feilding permanently and was living in Auckland.
She is filming interviews for TV3's new current affairs show, 3rd Degree.
Neither Guy nor Jameson wanted to talk about their relationship yesterday, but they appeared happy in each other's company.
Talking about a probable move north from Feilding last year, Guy said: "I need to get a job and I need to make a fresh start. I am excited about moving to Auckland, there is more opportunity up there.
"I have more friends up there, too, so that is a drawcard. I think it is a good thing for the kids to have a change rather than staying in a small town.
"I feel I have so much more to explore and do with my life because I settled down so young and didn't go anywhere. I didn't know any different."
Macdonald, who is serving time in jail, told her last year he would always love her, but his actions - killing animals and vandalising Scott and Kylee Guy's house, had been too serious to overlook.
"He chose his path when he did those things," she said then.