Thieves targeting caravans, leaving owners fed up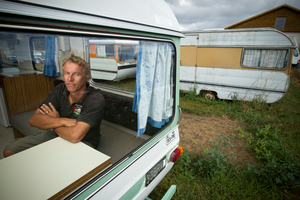 Humble Kiwi caravans are taking a hammering from thieves and vandals - and owners claim the crimes should be taken more seriously.
In a recent case, two men have been charged after a caravan leased by a surf lifesaving club was taken on a boozy joyride. Hundreds of children had a lifesaving contest disrupted when "joyriders" made off with the caravan in Orewa on February 2.
"The caravan was in place on Friday night and by Saturday it was gone," said Rob Pidgeon, organiser of the Surf Lifesaving Northern Region Junior Championships for 700 kids. "Everyone was in a state of disbelief."
To prevent further thefts, the lifesavers hired security guards, adding further costs to the club.
North Auckland Caravans owner Edwin Van Zuilen, who leased the caravan to the surf lifesavers, said he was fed up. "They smashed a window, drove around with the brakes on, kicked the door from the inside, broke all the locks.
"The courts are too soft."
Van Zuilen said the caravan was taken to a home in Puhoi before being towed to Wenderholm, where it was parked to host a party.
Surf Lifesaving lost a $600 bond, Van Zuilen said. "It's cost them and it's going to cost people their donations again."
Van Zuilen said he knew of a similar incident in Dairy Flat.
His business had lost more than a dozen caravans and only recovered one. He said it was expensive to track down stolen caravans and return them to owners.
Apart from joyrides, thieves stole caravans for mobile cannabis-growing stations or to store other stolen goods. Damaged caravans could leave an owner with bills in the thousands of dollars.
Van Zuilen said one convicted thief was given home detention and couldn't pay him back. "He can't get a job and can't afford to pay my $500 worth of damages."
Two Orewa men appeared in the North Shore District Court on February 4 on charges related to the Orewa theft.
One of the accused, a 23 year-old, will re-appear on Wednesday.
A celebration of caravans is on in Hamilton next weekend at the New Zealand Motorhome and Caravan show. Classic Events managing director Michelle Connell said 15,000 people were expected over three days from Friday, March 1.