Exclusive: Lawyer for accused in 2003 death says his client will admit manslaughter.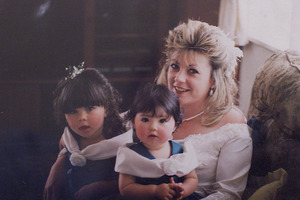 A man accused of murdering mother of three Sara Niethe is expected to plead guilty to a charge of her manslaughter when he appears in court today, his lawyer says.
But her family are pleading to be told the whereabouts of her body, missing for nearly 10 years.
Mark Pakenham was due to stand trial in May for the murder of the Hauraki Plains woman, who has not been seen since March 30, 2003.
But in a shock development in the cold case, the Herald has learned that the Crown intends to reduce the charge to manslaughter.
Defence lawyer Paul Mabey, QC, confirmed Pakenham would appear today in the High Court at Hamilton, where a new summary of facts would be presented and his trial canned.
He said Pakenham intended to plead guilty to the lesser charge.
The Herald understands that more information about the case has surfaced since his arrest and the 50-year-old may face additional charges.
Sara Niethe's mother, Eileen Marbeck, said detectives visited her Kerepehi home on Wednesday morning to tell her of the developments.
She was happy about the news but would rest easily only when she knows where her daughter's body is.
"Up until recently he [Pakenham] said he hadn't done it but now he's putting in a plea for manslaughter."
Mrs Marbeck said police told her they still did not know the location of the body or the green Honda Civic Sara was driving.
"I can't understand why they would even accept a plea when he can't tell them what he's done with it. It's been 10 years; he's kept denying it for 10 years."
Ms Niethe went missing about midnight on March 30, 2003, after leaving Pakenham's house in Kaihere, 35km northwest of Morrinsville. She was heading back home to Kerepehi, about 10 minutes' drive away.
Police initially thought she might have had an accident as she drove home so they combed canals and riverbanks in the Hauraki Plains area but found nothing.
As the days wore on and daughter Danielle celebrated her 10th birthday, police discounted suggestions that she had left home, as she had planned her daughter's party to the last detail at the L&P Cafe in Paeroa, and would not have missed it.
One of Ms Niethe's closest friends, Rachel Mains, said she would attend court today with Sara's children and Mrs Marbeck.
She remembers receiving a phone call about the time the friend she had known since she was 13 went missing.
"I remember hanging up the phone and just going, 'My god, Sara is dead'."
In a Herald interview in 2003, Pakenham, a former farm labourer, said he had sought help from God for Ms Niethe's safe return. "I have even been to church and prayed for her and I'm not even a church person."
Inquiry head Detective Sergeant Glen Tinsley said the news of a likely guilty plea was "bittersweet" for Ms Niethe's family as Pakenham had not revealed the location of her body.
"Hopefully he will do that; hopefully he will show the compassion for that to happen," he said.
Spokesman Andrew McAlley said police had accepted advice from the Crown about changing the charge from murder to manslaughter.
"The over-riding priority for police is to pursue a case where there is sufficient evidence to place a person before the courts. That has been done and we accept the decision made by the Crown Solicitor."