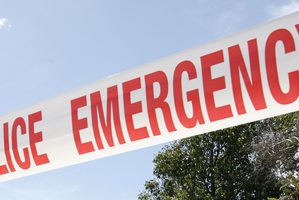 The owners of an Indian takeaway shop were shot by a slug-gun wielding robber, who was tripped by a customer as he tried to flee the scene.
Police were called to the shop on Great North Rd in Glendene just after 10.40pm yesterday, and the alleged offender was caught and arrested in the area shortly after.
Detective Inspector Bruce Scott said the shop was owned by a couple who were about to close up for the night.
The alleged robber burst in, pointed the slug gun at the woman and demanded cash. He then shot her twice.
Hearing the commotion, the husband came out from the back of the shop and handed over the cash register.
"The alleged offender shot him as well. He shot at his head, but the guy put his arm up and it hit there instead," Mr Scott told the Herald.
"He [the offender] took off but was tripped by a customer, and he dropped the gun."
The wife called 111 and police were in the area so managed to get to the scene almost immediately.
The alleged offender was apprehended soon after and will appear in the Waitakere District Court today on various charges relating to the incident.
Police recovered all of the cash taken from the shop and returned it to the couple.
Neither were seriously injured, but suffered painful welts where the slug gun pellets hit their skin.