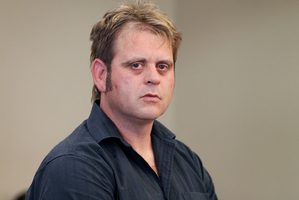 Troubled broadcaster Iain Stables wants to revive his career after avoiding home detention for assaulting a hotel owner who owed a radio station money and a "violent tantrum" in which he punched his ex-partner's brother.
The former radio shock jock was sentenced to four months of community detention and 50 hours of community work when he appeared in Wellington District Court this morning on charges of assault, theft and intentional damage.
The court heard how Stables punched a hotel owner who owed advertising money to a central North Island radio station, where Stables had been working as a part-time volunteer.
Taupo-based Stables and two other station employees went to the Raetihi hotel to demand payment in December 2011.
When the woman at reception said they could not pay, her 63-year-old husband stepped in.
Stables and another man led the owner into a dining room and punched him, causing him to fall. They continued to punch him in the head and chest.
The owner suffered cuts to his mouth and forehead, a black eye and a cracked tooth.
Stables and the other man then took a plasma screen television, a Freeview decoder and a stereo system but left them outside the hotel, where they waited for police to arrive and arrest them.
He pleaded guilty in Taihape District Court to charges of assault and theft.
The incident came just months after Stables was charged with assault and intentional damage after he flew into a rage at the flat he shared with his then partner, Kimberley O'Hagan, at the front of her parent's Wellington property.
The incident unfolded after Ms O'Hagan's mother found damage at the flat and served Stables with an eviction notice in March 2011.
A jury last year found Stables not guilty of assaulting his ex-partner's parents, Marianne and Robert O'Hagan, but found him guilty of punching her brother, Martin O'Hagan.
He also pleaded guilty to intentional damage of a car, which he repeatedly rammed with his four-wheel-drive vehicle, and a trellis gate and a chair.
Crown prosecutor Miriam Wilkinson asked for Stables to be sentenced to home detention and disqualified from driving.
But defence lawyer Gretel Fairbrother asked for a sentence of community detention, arguing that Stables wanted to be able to return to his career in Auckland.
She said Stables was getting twice-weekly help for his mental health issues, including anger and loss of control, which stemmed in part from his bipolar illness.
"All he can do is struggle to get on top of them," she said.
Stables was remorseful for his actions, had sent a letter of apology to the Raetihi hotel and was willing to make reparations to the O'Hagans.
Judge Denys Barry described Stables' actions at the hotel as "an ill-thought out foray" which was marked by standover tactics and vigilantism.
"You effectively took the law into your own hands."
The incident was more serious than the "violent tantrum" at the O'Hagan's Wellington home, which was nonetheless marked by its vindictiveness.
Judge Barry said Stables' offending was serious enough for a term of home detention, but that would not allow Stables to rehabilitate by continuing his part-time work.
He handed Stables identical concurrent sentences of four months of community detention and 50 hours of community service for each matter.
Stables must also pay $619 in reparation for damage to the O'Hagans' car.
Judge Barry also ordered Stables to undertake a further 40 hours of community work for $3916.51 in outstanding fines, which related to previous motor vehicle offences.
Stables' co-defendants in the hotel incident were earlier granted diversion.
Stables earlier faced a charge of disorderly behaviour in July 2011 in relation to an incident at Auckland Airport.
The charge was dropped after the other person involved - Jetstar contract worker Patrick Joseph Ulberg - was found not guilty of assault.
- APNZ