Schoolchildren seen running from paddock and leaving bag of drugs.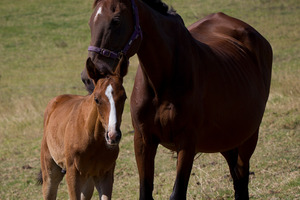 A mare and her nursing foal have been poisoned with a cocktail of prescription and over-the-counter drugs in the third serious attack on animals belonging to a Red Beach woman in the past year.
The 18-year-old mare Annie and her month-old foal Revvy have been shifted to a secret location north of Auckland after the latest attack.
An eyewitness told the Herald on Sunday a group of schoolboys ran off from the William Bayes Place grazing paddock on Thursday afternoon, leaving behind a supermarket bag full of anti-depressants, anti-inflammatory and anti-nausea pills.
Distraught owner Amber-Leigh Erasmus said the newborn foal was discovered shaking, barely able to stand with its eyes rolling back into its head.
The mare had an immediate allergic reaction to the drugs and was suffering from painful welts.
Last night, the older animal's health was causing concern after losing a startling amount of weight.
This was the third in a series of attacks on the animals.
The pregnant mare was tagged and drenched in alcohol last May.
After it was moved to another location she was wounded in a machete attack in September.
Red Beach resident Glenis Swan said she disturbed a trio of teens wearing Orewa College uniforms in the horse paddock.
She said they were behaving strangely and when they noticed her approaching they bolted, dropping their stash of pills.
She collected the bag and called police.
Orewa College principal Kathleen Shevland could not be contacted yesterday.
Erasmus said she was devastated by the discovery and was trying to rally as much awareness and public support to find the culprits. She had set up a Facebook page in an attempt to raise money for her growing veterinary bills. And she was prepared to pursue this latest incident after the earlier May attack remained unsolved.
"I'm so upset. I've been in tears ever since it happened," she said. "I really want these people caught.
"I'm really sad this could be done by kids and I'm completely beside myself."
Erasmus, who runs a horse training centre, said her animals were now fearful of humans and the foal was even distancing itself from its mother.
People were responding to her online requests with donations coming in, including supplements and feed for her ailing horses.
Dairy Flat Clinic veterinarian Anna Day said: "The mare and her foal are okay. It's just a really odd thing to do.
"It's probable that if somebody hadn't come along before they really got stuck in (to the pills) then it could have been different."
In another incident, a filly was snatched from a West Auckland farm in Taupaki.
Thieves cut through a live electric fence to take the brown and white miniature pony from a Nixon Rd property on Friday night.
Kumeu police appealed for anyone with information to call them on 09-412-7756.