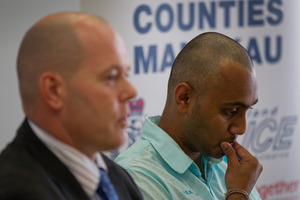 Police are looking to criminal profilers for clues to why a gentle man who loved his family was burned alive on the side of the road.
Shalvin Prasad, 21, was found on McRobbie Rd in Kingseat south of Auckland on Thursday, January 31 - several hours after he withdrew tens of thousands of dollars from his bank account and left his RAV4 outside an industrial building in Papatoetoe he had no connection with.
His family thought they knew everything about him but cannot explain why he took the money out.
One theory is he was the victim of blackmail or fraud but police say there is no suggestion he was involved in illegal activity. Detective Inspector Dave Lynch said the family were now aware there was something going on in Shalvin's life. "He was trying to keep something from them that day, that evening. They accept that."
Petrol was used to start the fire that killed him and the manner of death was being closely looked at by investigators.
"It was a fairly nasty way to die. We're looking to our criminal profiling unit for them to give us some indication on potential motive around that type of killing and the potential significance of the petrol."
He could not say if it was a very personal way of killing someone.
"We're waiting for expert advice around the method of killing to see whether or not that's relevant in terms of potentially identifying offenders." Police believe Shalvin parked his car in Plunket Ave, Papatoetoe, himself just after 9pm on Wednesday, January 30. "That would certainly indicate he got into another vehicle and there were another person [or] persons that he went off with from there."
His older brother Pravin, 27, yesterday renewed his family's pleas for someone to come forward with information.
"He was a great person and he still should be with us. If you know anything about what happened to my brother please call the police. If you saw him that night we need to know."
Pravin said Shalvin would always choose his family over his friends. The killing had hit them like a "trainwreck".
"The death of my brother has really shattered our lives, we've lost our favourite Shalvin."
Pravin still hoped he would just come home like normal after work at the Botany Pak 'n Save, but the reality that he would never see him again was setting in. "We've lost the kindest person. I've lost my only brother, my parents have lost their son, my wife has lost a brother. He's gone.
"The events that have happened leading up to it were just like any other week. It was just normal that week, there was nothing to suggest he was spooked in any way."
Mr Lynch said he was still "uneasy" that the drivers of two vehicles seen leaving McRobbie Rd at high speed on the Thursday around 6.30am hadn't come forward
Both vehicles carried on straight through the intersection into Kingseat Rd travelling in the direction of Pukekohe. One was described as blue and silver, and the other was white.
"They may have nothing to do with it but if they aren't I'd like to eliminate them. They were described as driving at high speed through that intersection so there was obviously something they were up to there."
He said if they were doing something else that wasn't connected to Shalvin's death or violent crime, police would take that into consideration in return for some co-operation.