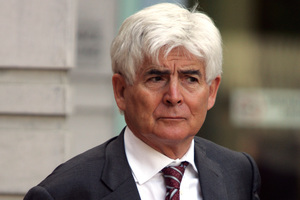 The public need to be protected from disgraced lawyer Barry Hart after he overcharged a "vulnerable'' family by $20,000 and then refused to repay the money.
Hart has been struck off the Law Society's registrar, ending his 46-year career as one of New Zealand's most high-profile criminal defence lawyers.
He did not turn up to his own disciplinary hearing last year after seeking an adjournment and sending in medical certificates to say he was too unwell to attend.
The hearing went ahead and Hart was found guilty of three misconduct charges, including overcharging, by the Lawyers and Conveyances Disciplinary Tribunal.
He appealed his case to the High Court at Auckland in December last year, saying the Tribunal had no right to proceed in his absence.
However, chief High Court judge Justice Helen Winkelmann and her colleague Justice Graham Lang dismissed Hart's appeal in their decision released today.
The judges said Hart had "persistently delayed and obstructed'' the Law Society's investigation and the disciplinary process.
The judges upheld the Tribunal's ruling that Hart had overcharged a client's family and was guilty of two further misconduct charges.
They also upheld the Tribunal's result which has spelled the end of Hart's career that included representing samurai sword killer Antonie Dixon.
Justices Winkelmann and Lang dismissed a suggestion from Hart's lawyers that he could work under the supervision of another lawyer.
"It is unrealistic, in our view, to suggest that an order requiring Mr Hart to practise under the supervision of another practitioner would be sufficient to properly protect the public.''
The court head how Hart charged $1000 an hour while he waited for seven hours in North Shore District Court for the client's matter to be called. The appearance took a few minutes.
The bill for several appearances came to $35,000.
"The tasks undertaken by Mr Hart for Mr A could and should have been achieved at a far lower cost to the family. Mr Hart seems to have made little or no attempt to manage the cost of the work done,'' the judges said.
It found that Hart's fees were "far too high'' and further criticised Hart for his lack of communication skills.
Hart was ordered to repay the family $20,000 but that payment has not been made.
"His failure to make the payment calls into question his bona fides in dealing with the Tribunal.''
The judges of the High Court found that Hart's attitude to his client's vulnerable family had been "exploitative and showed a lack of integrity.''
They also noted that it was not the first time Hart had overcharged clients.
Law Society President Jonathan Temm said his organisation welcomed the court's comments that lawyers must not exploit clients and must not charge more than their work is worth.
"This has been a long and drawn-out proceeding and the judgment shows very clearly that our justice system takes a very serious view of a failure to co-operate promptly with the disciplinary process.''
Hart did not return phone calls today.
He has also lost his multimillion-dollar properties northwest of Auckland after owing $30 million to the ANZ National Bank.
Associate Judge David Abbott last year ordered Hart to vacate the last property so it could be sold by the bank, and said Hart was liable for the $20,543,951.92 which remained outstanding on his bank loan.
His companies Woodhill Stud and Woodhill Holdings were also liable for loans worth $16,170,727.11, which must also be paid back at a rate of five per cent per annum.
It has also been revealed that Hart's fleet of luxury cars - including an Aston Martin and a 2011 Ferrari California - have been put up for auction.
- APNZ