Famous Kiwi runner backs his teen after crash.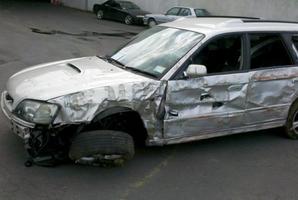 A former athletics world record holder and politician with a history of speaking out on law and order is supporting his teenage son who faces dangerous driving charges.
Howick ward councillor Dick Quax was with his son, Jacob Randall Quax, in Manukau District Court on Wednesday last week. Jacob, 17, was charged with dangerous driving after losing control of a car in Howick on the night of October 25. He did not enter a plea.
The Subaru smashed into a bay window at a Ridge Rd house as the family watched TV. "There was a big loud noise and then the lights went out because he'd hit the electrical pole," the owner said.
The teenager had allegedly veered across the street before smashing through four fences and into the house. Initially the homeowners, who declined to be named, thought a tree had fallen. They ran outside where they found Jacob Quax and a male passenger.
"It's very lucky that no one was seriously injured or killed in this incident," Sergeant Jeremy Field of Counties Manukau East Police told the Howick and Pakuranga Times.
Police allege the car was travelling between 96 and 112km/h. "[The driver's] overcorrected, possibly trying to avoid a vehicle parked on the left-hand side of the road, and lost control," Constable Dean Trott said. "When you look at his car it was pretty much intact, but there was a fair bit of panel damage."
A blood test found alcohol was not a factor.
Dick Quax won silver at the 1976 Olympics in the 5000m and held the world record for a year. Safety is a key aspect of his politics. As portfolio leader for community safety in July 2008, he proposed the Manukau City Council should hire security guards to patrol streets. He has argued that increasing Auckland's housing density would be a recipe for more crime.
Community magistrate Phil Greenbank gave the teen three weeks to seek legal advice. He will reappear on February 13.