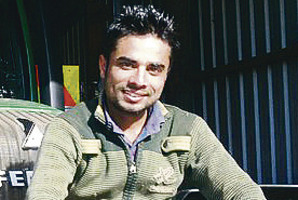 Gisborne Mayor Meng Foon is urging the community to help police in their hunt for those responsible for the apparent murder of Indian man Amandeep Singh.
Police have yet to conclude formal identification of the body found in scrub at the base of Kaiti Hill, near the city, last Thursday evening.
They believe it is the body of 22-year-old Mr Singh.
Head of Gisborne CIB Detective Senior Sergeant Craig Scott says the identification process is taking time and it is not a process that can be rushed.
"It might take several more days before we are able to say definitely that the body is that of Amandeep Singh," Det Snr Sgt Scott says.
Police completed their scene examination at Kaiti Beach at the weekend.
Det Snr Sgt Scott says he is unable to make further comment on the inquiry at this stage.
Mayor Foon says like everyone in the community, he is concerned about the crime.
"I extend my condolences to the family of Mr Singh.
"I feel so sorry for the victim and for his family.
"It's terrible what has happened. It is a tragic thing that has happened in our community and I encourage everyone to help the police solve the crime.
"There will be people who know what happened to Mr Singh, and I encourage them to come forward and talk to police about it."
Mr Foon says he is sure police will treat their information with the utmost respect and importance.
Members of the Indian community in Gisborne, Mr Singh's friends and his workmates have expressed concern about the apparent murder.
They say they are worried and anxious to know the reason why it has happened.
Mayor Foon reassured the Indian community that the police will do their utmost to solve the crime as soon as possible.
"This sort of thing happens throughout New Zealand and the world every day but it is concerning that it has happened here."
He says members of the community wanted the offenders brought to justice.
"Several have said to me, 'I hope they catch the bastard'."
The council is supporting Ka Pai Kaiti in its appeal for funds to assist the Singh family with their expenses.
Manu Caddie is organising that appeal, which has raised about $800 so far.
"I'm pleased with the response to this point and hope to see further funds come in," Mr Caddie says.
- The Gisborne Herald