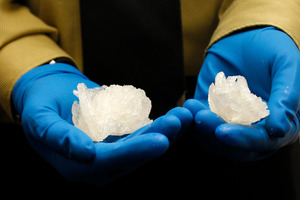 Chemicals used by meth labs are causing massive damage to New Zealand sewage systems, a water quality scientist says.
Tara Okan, from water monitoring firm DCM Process Control, told Radio New Zealand's Morning Report he discovered the damage after unexplained breakdowns at a North Island treatment plant stopped once police closed down a nearby methamphetamine - or "P" - lab.
Mr Okan said the chemicals can degrade pipes, kill bacteria in treatment, create explosive gases in pump stations and pose a threat to workers.
The damage caused to sewage systems by meth lab chemicals was in the hundreds of thousands, he said.
Mr Okan told Morning Report the problem only affected smaller towns because the chemicals were not diluted due to the smaller amounts of wastewater.
Some plants have monitoring equipment designed to divert chemicals from P labs, he said.
- nzherald.co.nz