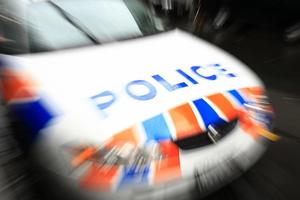 A volley of six shotgun blasts have been fired at a Whangarei home, in what police believe could be a gang-related attack.
The shots blasted through a wooden fence of a public walkway, in the early hours of yesterday morning, puncturing a children's swimming pool on the other side and leaving nearby families concerned for their safety.
Five of the shots formed a neat arch, with the other a metre to the right, in the wooden palings on the walkway leading from Eden Terrace to Lewis St, Kamo.
Whangarei police Acting Sergeant Ken Andrews said a man called police after hearing gunshots about 2.50am yesterday.
When police arrived, they were unable to find anyone at the scene but recovered six cartridges.
No one was home when the Northern Advocate called at the house yesterday, where it is understood two children live with two adults. But neighbours with young children expressed concern over a gunman in their street.
None of the neighbours wanted to be named out of fear of becoming a target themselves.
One man said he had been outside having a cigarette when he heard a car pull up near his house. He thought it was family members returning home but was mistaken. He went to bed and it was then he heard a series of big booms.
"It was really loud and sounded really close ... like at the end of the driveway."
He and his partner rushed around the house and made sure all the windows and doors were locked, and comforted their children who were woken by the shots.
His partner said she heard a car speed off about 15 seconds after the shots were fired.
They were unable to get a registration number of the vehicle.
"It's frightening to think there are people walking around out there with guns," she said.
"It's scary. Imagine if it had been during the day and the kids had been playing outside? What do we do, keep them inside?"
Another resident said he was woken by loud bangs he thought were fireworks.
"I thought it was Guy Fawkes again, then the police turned up five minutes later and asked me if I had seen anything," he said.
He had since gone up the walkway and examined the damage.
"Yeah, it's a bit of a worry to think people are firing off guns so close to home," he said.
A young dad said the volley of shots had also woken him from his slumber.
"I didn't know what it was at the time and had a look out the window and couldn't see anything."
He said the shots were about a second apart and were extremely loud.
The matter is being investigated by Whangarei detectives.
For more articles from this region, go to Northern Advocate