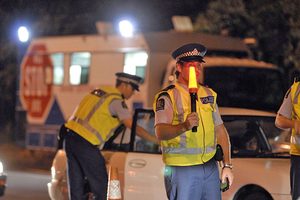 A passenger charged with letting a drunk driver, who was later killed in a smash, get behind the wheel of his car has indicated he will fight the rare charge.
Police say 22-year old Ben Beazley was a passenger in his own car driven by his mate Tarrin Kayne Alderson, 18, when it left the road in Christchurch in the early hours of May 25 last year, and hit a concrete power pole.
Mr Alderson died on his injuries but Beazley was saved, police say, because he was the only one wearing a seatbelt.
But now, the young contractor from the Opawa suburb of Christchurch has been charged with aiding and abetting Mr Alderson by allowing him to drive on Flaxton Rd, near Rangiora, while under the influence of alcohol.
Beazley was granted a registrar's remand last month and was due to appear at Christchurch District Court today (WED).
But court papers indicate that Beazley has since pleaded not guilty to the unusual charge and now has a status hearing set down for February 14.
Canterbury police last year vowed to take a hard line against car owners they believed had let drunk or drugged drivers use their cars.
Allowing drunk, drugged or disqualified drivers use their cars could result in the vehicle's owners face maximum penalties of three months' imprisonment, a $4500 fine, and six months' driving ban.
Dr Chris Gallavin, dean of University of Canterbury's law school, says party liability is relatively common in criminal law, but it was unusual for police to pursue a charge in relation to drink driving.
He said the prosecution would need to prove that the car owner gave keys to the driver with the knowledge that he was drunk and that he intended to drive.
It could prove to be a test case for the police, he believed, especially if it resulted in a prosecution.
"If they are successful, they might be bolstered in their campaign against drink driving," Dr Gallavin said.
"These offences often don't happen in isolation, there are often other people involved - people who provide the car, provide the alcohol, provide some sort of encouragement - and if all that is done with the knowledge that drink driving is going to occur, and that's the hurdle they [the police] have to cross, then they will give it a go and pursue a prosecution."
- APNZ