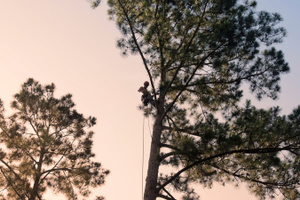 Ashburton's arborists are warning home owners to check the credentials of any one knocking on their door, offering to prune shrubs or trees.
They've been fielding a spate of complaints from property owners who say they've been ripped off by arborists who proved to be amateurs, who left evidence of shoddy workmanship in their wake.
About three years ago several Ashburton home owners fell victims to a similar yard clean-up scam and the district's professional arborists are concerned the same team is back in town.
Arborist Chris Amudsen said he believed the rogue arborists used quite an aggressive approach to potential clients to convince them work needed to be done and that they required payment up front, before work started.
"I've been told there was one old chap in Tinwald they charged $1000 to chop his tree down and they didn't even cart away the rubbish. From what I've been told, it seems they're moving around the South Island."
Lyell Jemmett said he had heard similar reports and believed the team often approached the elderly.
Professional arborists usually didn't hear about the issue until after the event, when the work had been done and the bill paid.
"As tree care professionals we're concerned about this. We believe these guys are operating nationally. They're based in Christchurch and travel around door knocking."
His brother received a visit from the team prior to Christmas, Mr Jemmett said.
Many people would immediately realise the bogus pruners weren't professionals, but for those who didn't and accepted their job offer, he said there was no doubt they were being ripped off both financially and in terms of the quality of work carried out.
"None of us have any problem with competition but that's as long as people are doing a good and fair job, but when you get guys like this who are ripping people off and not doing a good job it's simply not right."
He's urging people who are concerned about an unsolicited approach from people who say they are arborists to make a few checks before agreeing to the work. Home owners should check vehicles to make sure they're signwritten and should ask a few questions about other work they had done, he said.
During the past year the Ashburton District Council has issued 89 notices to property owners in Ashburton, Rakaia, Methven and Mayfield who have had vegetation overhanging the footpath.
Most of those had been auctioned, but some were still under investigation, council regulatory manager Richard Wade said.
If people who received notices to trim vegetation intended to employ people to carry out this work, they should be aware that bogus arborists were in the area, he said.
'Our advice is to use a reputable, fully insured company, ideally with references. They should not pay for the work to be done in advance and the job should include the removal of all cut down wood or vegetation from the site."
Mr Wade said that no tress should be cut down or pruned unless a check was run with the council to ensure they were not heritage trees or protected in some way.