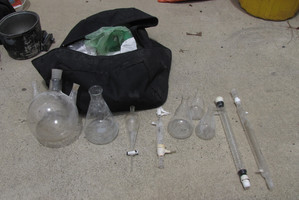 More than $65,000 in cash and 70g of methamphetamine with a possible street value of more than $70,000 has been uncovered by police at two undercover drug labs.
On Monday night two properties north of Auckland were raided by police after they received information from members of the public about suspicious behaviour at the addresses.
The Counties Manukau organised crime team used search warrants at the properties in Puhoi and Silverdale and found labs set up for the manufacture of methamphetamine, or P.
Inspector Dave Lynch told the Herald the Puhoi lab was set up on a rural property, and the Silverdale site was in a warehouse-type building in an industrial area.
Across the two properties police found a total of 70g of methamphetamine. A gram of the drug costs about $1000. Smaller quantities, known as "points" and between th and th of a gram can be bought for around $100.
Alongside the drugs, Mr Lynch said, officers found $66,288 in cash, 48 rounds of 9mm ammunition and 10 shotgun cartridges.
There was also laboratory equipment, chemicals and substances capable of being used to make the drug.
Two men aged 40 and 39 and a 39-year-old woman were arrested and charged with a number of methamphetamine-related offences.
The trio appeared in the Manukau District Court on Tuesday and the men were remanded in custody until their next appearance. The woman, from Puhoi, was released on bail.
"Organised crime, gangs and drugs are a driver of crime in general and responsible for considerable harm to the community," said Mr Lynch.
"Counties Manukau Police are committed to targeting organised crime, gangs and drugs as part of a multi-agency approach working with other government departments."
Around 200 clandestine meth labs are found each year set up in a range of places including vehicles and storage units.
He said if anyone had further information about drugs, gangs, organised crime or drug manufacturing operations, they should contact their local police immediately.
The law
Methamphetamine is a Class A controlled drug as defined in the Misuse of Drugs Act 1975. Possession of methamphetamine carries a maximum penalty of six months imprisonment and a $1000 fine. Methamphetamine "dealing offences" - including manufacturing meth, possession for supply or selling - carry a maximum penalty of life imprisonment.