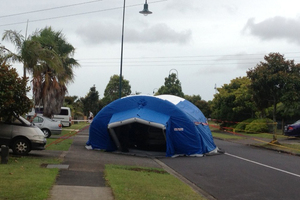 A man has been charged with unlawful possession of a firearm over a shooting in Flat Bush that has left a young man in critical condition with a stomach wound.
A 29-year-old man, who resided at the Eastland Road address where the shooting took place, is facing one charge of unlawful possession of a firearm.
He is due to appear in the Manukau District Court today.
But police still want to speak to Gareth Heron, 25, in relation to the shooting outside the house late on January 2.
Mr Heron owns the same style gun - 0.22 calibre cut-down rifle - from which the shot was fired, and his dark green Mazda was seen outside the scene.
Detective Inspector Jim Gallagher said the 23-year-old victim remains in a critical condition in Middlemore Hospital.
"The victim has sustained a potentially fatal bullet wound to his stomach. His survival from that wound is of serious concern."
Mr Gallagher said the man underwent emergency surgery yesterday and might be back in the operating theatre today.
Heron should be considered armed and dangerous and Mr Gallagher said anyone with information should go directly to police.
"The concern of course is the fact that he has in his possession a potentially loaded firearm. We're asking the public not to approach him, or the car itself if seen."
Anyone who has information should contact Counties Manukau Police on 09 261 1300 or Crime Stoppers anonymously on 0800 555 111 and refer to Operation Helen.
- nzherald.co.nz and APNZ