Neighbours chase suspicious man from property hours before blaze.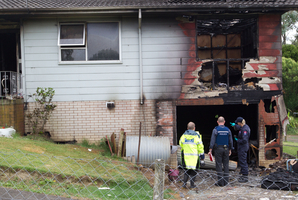 A West Auckland family escaped from an inferno after their house was deliberately set on fire early on Christmas morning.
Police are treating the fire in Coburg St, Henderson, as arson - and a neighbour yesterday told how they chased a suspicious man away from the property hours before the blaze.
Neighbour Lily Purcell, 39, told the Herald: "I scared him off and then hours later this happens," she said, pointing to the blackened home with cracked windows.
She thought the man was looking for someone in the home. "I don't know why, but he was definitely stalking the house."
She'd seen the man before, and others in the street knew he was a "dodgy character".
The house is owned by Mina Zinck and her family.
Ms Purcell said people from Ms Zinck's house started to chase the man away when he was first seen, about 11.30pm, after she called out a warning to them.
"They went to chase him but he was gone."
The family was angry, Ms Purcell said. "Lots was happening, but anger was definitely starting to set in."
The family of eight waited in Ms Purcell's home before they gave statements to police. "They didn't know what to do. They walked out with what they had on."
Ms Purcell was woken by someone knocking on her door about 2.30am. When she opened it she saw the flames and could hear her neighbours screaming.
"Our neighbours came and tried to help them. I think they thought the son was in there, that's why there was so much panic.
"But the house was gone. We were all trying to get the [fire] brigade to come but the line seemed busy - I think that's because we were all trying to get through."
Ms Zinck's daughter, Rudeen Zinck, told 3 News the fire had ruined Christmas.
"As we stood there and just watched our house burn. Christmas is just ruined ... but we're just grateful that we have each other."
Smoke alarms alerted them to the blaze. "I thought it was just my brother coming in ... and probably hit the wheelbarrow or lawnmower, so I just ignored it."
In an unrelated incident yesterday, the back deck and section of a house at 16 Meadowbank Rd in Remuera were badly damaged after a fire broke out around 4.45pm.
Remuera fire station officer Nigel Foulkes said the home was vacant, and the fire appeared to have started near an outdoor barbecue.
Neighbour Rob Treacher said at first he and his family thought people at the property were having a barbecue, until they saw smoke and flames over the top of the hedge.
"We managed to get in the gate and went around the back, and it sounded sounded like a gas thing went, a muffled explosion."
Mr Treacher and other neighbours stood well back as they waited for the fire brigade to arrive.
He said it was fortunate that fire crews arrived in time to salvage the house.
"I would say it would have been pretty close. A little bit longer ... and it would have all gone up."
Figures supplied by the Fire Service, up until early December, show there have been 214 unlawful or suspicious residential fires in New Zealand this year, with one fatality.
TV3 reported a 17-year-old man had been charged with arson over the Henderson fire.