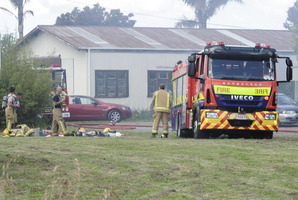 The number of P lab busts in the Bay of Plenty has hit a four-year high.
So far 15 clandestine P labs have been uncovered in the area this year but police are awaiting test results on a further 12 properties. Eleven are in the Western Bay and latest of these were found in Katikati and Oropi during Operation Detroit which ended last week.
Three labs were in Taupo and one in Rotorua.
The number of labs is up significantly on the eight uncovered last year and 11 the previous year.
Bay of Plenty crime services Detective Senior Sergeant Lindsay Pilbrow said the results reflected a hardline approach by police.
"We're happy that we're finding these labs and the work that we're doing is obviously making a difference and putting pressure on these cooks.
"The figures and the activities last week should give the public some confidence that we're doing something." The two labs found in Tauranga this month were large operations, Mr Pilbrow said.
"If we take them out of action they are significant blows for the groups that are running them."
- APN