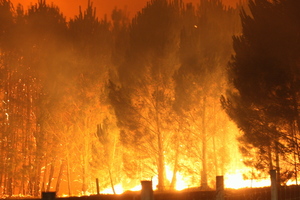 A volunteer firefighter failed to mention his conviction for arson when he applied for duty with a rural fire force.
Logan Scott Handy was pictured on the front page of the Press newspaper this week battling a scrub fire near Swannanoa, North Canterbury.
Mr Handy, a member of the Swannanoa Rural Fire Force, was shown hosing down embers of a blaze that burned through a hectare of scrub on Monday before it was brought under control by fire crews from the Waimakariri district. Children are believed to have started the fire.
Waimakariri District Council principal rural fire officer Tim Sheppard said Handy was a newcomer to the Swannanoa fire force and had been a volunteer for "a couple of months".
Mr Sheppard said the newspaper photograph was "an unfortunate circumstance" that prompted calls to his office yesterday.
Asked if he was aware of Handy's background and conviction for arson, Mr Sheppard declined to comment.
Handy said he had not disclosed his conviction when he joined the force. "It didn't come up," he said. "I didn't think it was necessary to tell anyone."
Asked if he thought an arson conviction might have relevance to his firefighting ambitions, Handy said: "People change. And I've changed."
Handy, then aged 19, was sentenced in the Christchurch District Court in August 2007 to two years' jail on two charges of unlawful sexual connection, burglary, theft of a vehicle and arson.
He had been found guilty at a jury trial on the sex charges, which involved a 14-year-old schoolgirl, and admitted the others. The arson charge related to stealing a truck and setting it alight.
-APN