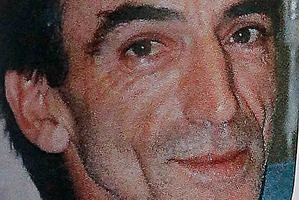 Vivien Leonard worries about the day someone is arrested for the murder of her good friend Jordan Voudouris.
She has heard the rumours and wonders most days about what happened to the loved Paeroa pizza shop owner, who was gunned down six months ago today at his home next door to Ms Leonard's shop.
"I've got a feeling that when we do find out [who killed Jordan] it's going to be as big a shock as when it actually happened," Ms Leonard said yesterday.
"I think when we find out we're all going to go, 'Oh no, I just spoke to him or her yesterday'. It could be closer to home than we know.
"It might not be as well. I hope it's someone from Timbuktu. I don't want it to be anybody local."
Ms Leonard thinks every day about the mystery that has plagued the town since Mr Voudouris' body was found at the back entrance to his pizza shop where he also lived on June 18.
He was shot dead five days before his 56th birthday. Police have never revealed what type of gun they suspect was used.
Detectives believe the answer to Mr Voudouris' murder "lies within the community" and "for a variety of reasons" someone with information has not passed it on to police.
"What we want to say to that person ... is that as you sit down to enjoy Christmas dinner with your family, remember that Mr Voudouris had a family of his own, a family who would dearly love some closure to this tragedy," Detective Senior Sergeant Mike Whitehead said.
Twenty detectives remain committed to the investigation into who killed Mr Voudouris, who is believed to have died between 1.30am and 4.30am.
Ms Leonard, who owns Akrwrights Antiques next door to Mr Voudouris' Mykonos Pizza where he died, said the killing caused some to still be anxious if they were walking the streets after dark.
"It was horrific, just thinking that something so bad could happen so close to home," Ms Leonard said.
"The worst part is: who would want to hurt him? He was such a lovely guy and he was so kind to everybody. You think what could have happened."
One of Mr Voudouris' old friends, 58-year-old Benny Tjan, moved to Paeroa recently to reopen Mykonos Pizza.
Mr Tjan used to work with Mr Voudouris in Auckland and has kept the business alive in honour of his friend.
Police said yesterday that as the investigation dragged on, people's loyalties changed and a fresh appeal was made for people with information to contact investigators on 07 862 8744 or Crime Stoppers on 0800 555 111.
"They said they will get to the bottom of this [and] they will find who did it," Ms Leonard said.
"I'm confident that they will get there. I think they must know but they just still haven't got enough evidence."
- APNZ