One of the men accused of murdering journalist is found guilty of manslaughter while the other is acquitted.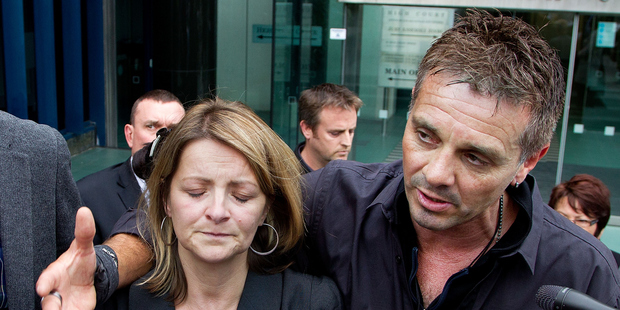 The family of Wellington man Phillip Cottrell have spoken of the agony of losing a loved one after verdicts were delivered on the two men accused of his murder.
One of the accused, Nicho Waipuka, was yesterday cleared by a jury of murder but found guilty of the lesser charge of manslaughter.
His teenage co-accused, Manuel Robinson, was acquitted and walked free from court.
Sue Hollows, the sister of the Radio New Zealand bulletins editor, bowed her head when the verdicts wereread out in the High Court at Wellington.
Outside court, Ms Hollows said she was "extremely disappointed".
"Phil was taken from us in the most tragic of circumstances, in an unnecessary and unprovoked attack," she said.
Her husband, Heath, said: "In the hospital for 17 hours I watched my wife hold Phillip's hand and the next day she had to sit and watch him die, and it took over an hour and a half, and it's just so traumatic what's happened."
The officer in charge of the case, Detective Senior Sergeant Scott Miller, said it was too early to say whether an appeal would be lodged.
Mr Cottrell, who had brittle bones as a result of a genetic condition, suffered a shattered skull in the attack in Boulcott St as he walked home from work early on December 10 last year.
He died in hospital the next day.
Robinson, 18, and Waipuka, 20, had been on trial for two weeks before the judge summed up and jury members returned their verdicts after six hours of deliberation.
Family of the accused could be heard sobbing when the verdicts were read out.
Waipuka's family would not comment on the verdict outside the court. He will be sentenced in February.
Robinson left the courtroom through a back entrance.
Neither of the men's lawyers commented after the verdict.
During their trial the Crown said both men were involved in the unprovoked attack on Mr Cottrell, punching and kicking him in the early hours of a Saturday morning as he walked home from a night shift. Waipuka's lawyer, Paul Paino, said his client admitted punching Mr Cottrell once.
Robinson's lawyer, Mike Antunovic, said his client was across the other side of the road when the attack happened, and he had not delivered the fatal blow or encouraged the attack.
- APNZ