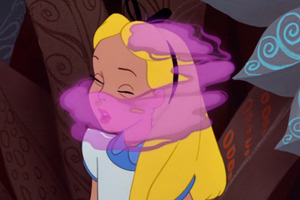 Say, hypothetically, this Thursday, Alice takes a stroll. Upon tumbling down an enormous rabbit hole, she is startled to be so rudely snatched from the warmth of the New Zealand summer.
Upon surfacing from her journey through the centre of the Earth, her bewilderment is compounded by the drizzly sky and dank air of a North Western American city. The grey haze reminds her of Hamilton in winter. The hipsters and longboards and ubiquitous artisan coffee shops could almost be central Wellington.
Say, hypothetically, Alice then trips on an edge and sweeps the concrete footpath with her chin. As she lies on her belly with grazed hands and knees, her eyes focus on a tiny green ball in the crease of a gutter. She reaches and picks it up, nursing the ball in her stinging hands, when the firm hand of a Seattle police officer seizes her from above.
"Marijuana!" he cries, as Alice stands up. "Ma'am, can you show me your medical licence?"
Of course, being from Auckland, Alice has no such thing. So she tells the cop the honest-to-God truth - she's fallen through a rabbit hole and somehow ended up holding a little green bud.
"Well, you've obviously been smoking," the policeman says, on hearing her ridiculous tale.
"And yet, I've no evidence you've smoked in public. I've no evidence you've cultivated a plant. I've dealt with some big-time drug dealers before and my experience tells me you aren't."
All Alice has is half an ounce or maybe even less. But hypothetically, come Thursday, the Seattle policeman may not know what to do next.
The date is exactly one month from the US Presidential election where, overshadowed by the race for the White House, two statewide referenda in the United States delivered nationally historic results. Colorado and Washington State became the first states to legalise the possession of marijuana for personal recreational use. In Colorado, more people voted in favour of the law than voted for the President himself.
The argument for legalisation was mostly economic. Economists calculated legalising personal use could benefit the US by between $16 billion and $50 billion every year.
The opposing argument was the drug's negative health impacts and the potential increase of availability among youths. But with 18 states having already legalised medical marijuana and a flourishing illegal market, proponents argued marijuana is already widely available.
The question now, though, is one of law. While states are free to hold referenda, federal law still strictly bans any and all marijuana possession.
And after the results in Colorado and Washington, the federal government has remained near silent on exactly what it might do on December 6. Whether Alice will or won't be breaking the law is a matter of significant contention.
But say, hypothetically, the Seattle cop is considering his options, when a call comes through from central command. "Finally!" says the dispatcher. "The federal government wants to reduce drug violence along the Mexican border while cutting the huge cost of marijuana enforcement. They'll collect a tidy sum in taxation, while introducing legislation to map all crops in an attempt to limit the access of minors."
"That makes sense," the cop would reply, as Alice turns back to the rabbit hole and smiles. Yes, what a Wonderland that would be.