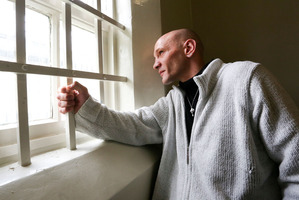 As Uwe Preuss walks through Wellington Prison, he can point out where he got married, where he conceived his daughter and the cells he called home for a third of his life.
Yesterday was the last chance the ex-con, with 200 convictions to his name, had to see inside the prison, sitting high on top of Maupuia Peninsula over Wellington Harbour, as it is closing after 85 years of operation.
By midday yesterday almost 2000 people had made use of an open day at the prison. All of the prisoners were moved out earlier in the week and the land, prime real estate, will be sold after it is officially shut at the end of the month.
Preuss called the prison home for 12 of his 36 years.
"I wish they weren't closing it. I love the place," he said.
As he walked through the prison grounds for the last time, Preuss said he still felt comfortable there. "I don't really want to go [at the end of the day] but I know I have to. There's no more. It's sad."
For Delphine Turney the place brought back memories of visiting an aunty who lived on site with her uncle, a prison guard.
Her uncle, Dave Manson, was wounded in Gallipoli and when the prison called for military men to join, her uncle took up the opportunity, moving his family to the site. "It was a job he was able to do without damage to him."
- APNZ