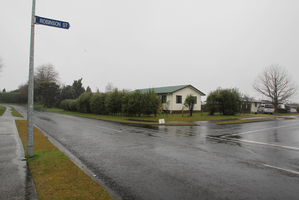 A man who pointed a rifle at a policewoman in Katikati after telling her "we must eradicate all white people" has been jailed for four-and-half years.
Hayden Flay, 20, of Waipa, appeared in Tauranga District Court yesterday after earlier pleading guilty to two charges of burglary and one each of unlawfully possessing a firearm and ammunition, presenting a firearm at a police officer and unlawfully taking a motor vehicle.
He also pleaded guilty to third unrelated burglary charge.
The court was told that Flay had only recently been released from prison when he pointed the firearm at a Katikati police constable in Fairview Rd on July 24.
The constable had been responding to a report of suspicious activity, after Flay had earlier made his way through several residential properties searching for unlocked doors.
At one property he entered an insecure garage and after smashing windows and a wall inside he stole an antique rifle, a large amount of ammunition, documents and knives.
He placed the items into two sacks and then walked off trailing ammunition down the road.
About 40 minutes later the constable spoke to Flay on the side of Fairview Rd.
He said to her: "We must eradicate all white people", before he pointed the rifle at her through the patrol car window from 1.5m away. Flay then ran off down Robinson St, dropping the sacks and firearm, and was arrested a short time later with the help of the Armed Offenders Squad.
Initially Flay denied presenting the firearm but told police he always did stupid things when he was intoxicated.
Two weeks earlier Flay had also burgled a house in Ohaupo stealing alcohol, $300 cash and the victim's car keys, later returning and stealing the victim's $12,000 car. After driving it over the Kaimais he crashed it down a bank in Pori Pori Rd. He hitched a ride to Katikati where the firearm offences occurred.
Judge Thomas Ingram told Flay that he accepted that he was genuinely remorseful for his actions but the only outcome for such serious offending must be prison.
The court was told Flay had sent the constable a letter of apology and offered to participate in a restorative justice meeting, which she had declined.
Judge Ingram said: "I have read the victim impact statements and unsurprisingly there are ongoing affects for the female police officer, after you pointed a gun at her."
The judge said Flay - who has an extensive prior offending history including being intoxicated in charge of a firearm in 2011 - desperately needed rehabilitation to help him tackle his addictions.
"If you don't deal with these problems in prison, I have no doubt the Parole Board will not be remotely interested in considering your early release."
For more articles from this region, go to Bay of Plenty Times