Former West Indies star accused group of men of trying to steal his car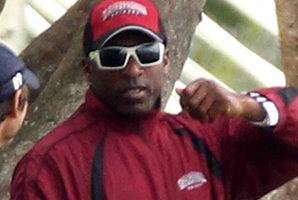 A former West Indies cricket star has been bashed by a group of men in a trendy Auckland suburb.
Friends of ex-international Franklyn Rose, 40, say the 195cm tall bowler was set upon in Stone St, Takapuna, early last Saturday morning.
"Franklyn returned home from a night out in the city in a taxi to find someone trying to steal his car outside his house," a friend who declined to be named, said. "The thief got out the car and joined four mates who then laid into Franklyn. He took a pretty bad beating."
Rose was a volatile figure in 19 test matches, before moving to New Zealand last year as coaching and development manager at Birkenhead City Cricket Club. He has since left the club.
In December last year, a Kiwi ex-girlfriend told the Herald on Sunday Rose had promised to marry her and owed her $18,000, though he rejected the allegations.
A family in the street saw last week's incident but asked not to be identified.
The father said he was woken by a commotion at about 1am last Saturday. He said three male youths and one female were arguing with a big guy who had a Jamaican accent. A white car was stopped on the road with all the doors open.
Rose was shouting that the youths had tried to steal his car.
Amid a lot of swearing and shouting, the youths walked off and Rose followed them.
"Then all hell broke loose. The three lads laid right in to Rose and gave him and his car a right kicking," the witness said.
Both parties were screaming that the other had a knife, he added.
"The big guy had blood pouring from a cut to his hand but I didn't see anyone anywhere with a knife.
"Someone came out with a towel and wrapped it around the big guy's hand to stop the bleeding until the police and ambulance arrived. He had been punched in the face and was spitting blood.
"The youths then disappeared before police got there. Some of the officers had Tasers and sidearms so they obviously thought it was serious. The car was eventually towed away."
Police this week confirmed they are investigating an assault on a 40-year-old male.
"The victim reported the incident but so far there are no suspects or other leads," a police spokesman said. "Several witnesses are to be spoken to as part of the ongoing enquiries."
Rose yesterday told the Herald on Sunday: "I am not in a position to talk about this right now."