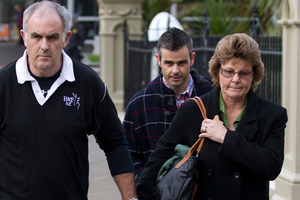 When their son was accused of murder they were "confused and bewildered". But now Ewen Macdonald's parents say they are "totally at peace".
Kerry and Marlene Macdonald also know their son was responsible for the "brutal" trial Kylee Guy and the rest of the Guy family had to endure, but they believe Tuesday's not guilty verdict was the right one.
"Over 480 days ago our son Ewen was arrested for Scott's murder and we spoke in our statement at the time of our support and unconditional love for Ewen. Over the months since, that support and love has got us all through this ordeal," Mr and Mrs Macdonald said in a statement issued to reporters.
At the time of the arrest the couple also said "the truth was keenly sought by all" - so they took every chance they could to ask for their son's version of events.
"After talking to Ewen at every prison visit possible and hundreds of phone conversations, we are no longer 'confused and bewildered' but rather totally at peace with the knowledge that we at least have his truth.
Tuesday's verdict was correct."
Ewen Macdonald was arrested after a nine-month manhunt that began when Mr Guy was shot dead at close range at the end of his driveway.
Macdonald always protested his innocence, indicating from his first court appearance that he would fight the charge.
The month-long trial ended on Tuesday but Macdonald remains in custody until he is sentenced for crimes he has admitted - some against Scott and Kylee Guy.
He has pleaded guilty to vandalising the couple's new home and burning another property of theirs to the ground.
In addition, he stole two deer from a neighbour and has pleaded guilty to three other charges.
The nature of those charges is suppressed until his next appearance in Palmerston North District Court on July 31.
Mr and Mrs Macdonald said the trial had been "brutal" for many people, especially Kylee Guy.
"Ewen knows he is responsible for that as well as the physical crimes he committed. Ewen has no words big enough to express his remorse or apologies."
When the verdict was delivered, Mrs Guy reacted by screaming: "He killed my husband, he killed my husband," then ran from the court.
The Macdonalds felt the media had forgotten "the real tragedy" of Mr Guy's death throughout the High Court trial and urged everyone to remember him - and those he had left behind.
"Wife, kids, mother, father, brother, sisters and wider families. Pause for a moment whilst you follow this spectacle and reflect on Scott's passing and all it means. We continue to give our unconditional love and support along with Bryan and Jo to Anna and our wonderful grandkids.
"We as a family have had enormous love and support from family, friends and colleagues which has given us the strength to get through the last months and these last four weeks. Thank you one and all."
Their family also received support from staff at Manawatu Prison, where their son was held since his arrest in April 2011. They said staff there had shown them respect, dignity and compassion.
"We have also had long hours with the New Zealand police giving statements and must say that they have been gracious and receptive to any of our concerns and have worked to resolve them all which has been greatly appreciated by us."
The Macdonalds' other son, Blair Macdonald, is a detective, a fact that was suppressed during the trial.