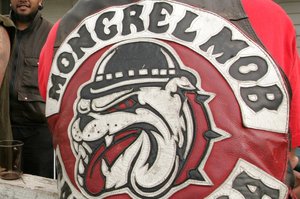 A Mongrel Mob member described by the Crown as the "acting president" in the northern Hawke's Bay town of Wairoa has been convicted in the High Court at Gisborne on two charges arising from a rival gang member being shot outside the mob's Wairoa pad in 2010.
Riki John Raroa, 46, was convicted by a jury of causing grievous bodily harm with intent and being part of an organised criminal group.
He was remanded in custody for sentencing on June 8.
His son, Cleveland Sonny Raroa, 22, was convicted of participating in an organised criminal group and found not guilty on the other charge.
He was remanded to reappear for sentencing on June 8.
Three other men, Jason Jeremiah Kaimoana, 34, Quentin Kane Kaimoana, 24, Joshua Jermaine Robin, 19, were found not guilty of being part of an organised criminal group.
The same charge had earlier been dismissed against Dion Marley Campbell, 33, because of lack of evidence.
The Crown says Judas Rerere was shot by an unknown person when the car he was a passenger in was driven to the Mongrel Mob headquarters in Kaimoana Road, Wairoa, in the early hours of October 26, 2010.
The shooting happened several days after the Mongrel Mob went on "red alert" in expectation of possible retaliation following the theft of a car.
The accused took or removed guns from the pad or directed the gang members in their actions.
Amit Martik, counsel for Ricky Raroa, said it was implausible for Raroa to act as president after an earlier shooting without any mandate to do so, and go on to direct that firearms be present at the gang pad.
The Crown case was based on text messages, Mr Martik said. But he told the jury they might be able to interpret the texts in other ways.
Some texts showed Raroa making concerted efforts to resolve issues with the Mongrel Mob after the shooting.
There was no evidence of any other tension between the gangs.
The Crown said the shot that struck Rarere was fired from within the gang pad.
But what was not known was who the shooter was, what type of gun it was and where the shot was fired from.
It was a reasonable possibility that Rarere was shot by "friendly fire" and not from the Mongrel Mob pad, said Mr Martik.
Philip Jensen, counsel for Cleveland Raroa, said the text messages were open to interpretation.
The Crown could not say who pulled the trigger.
Did the shot come from the Mongrel Mob building?
The charge of being part of an organised criminal gang required a person to be more than a gang member.
Nicola Wright, counsel for Jason Kaimoana, said his text messages made no reference to words such as "rakau" or "things" - said by the Crown to be code words for firearms.
He had sent texts about mutton, also alleged to have been a codeword for weapon.
But there had also been text references to "boil-up, cabbage, stew, hangi and lamb tails" while "mutton" was on a shopping list found by police.
No one else talked about mutton, said Mrs Wright.
John Mathieson, counsel for Quentin Kane Kaimoana, said the Crown had fallen short of proving his client had taken part in an organised criminal group by taking or removing firearms from the pad.
Legally, Kaimoana was not participating in the gang and was not a dedicated member.
He was a man who worked, went to school meetings and, when asked to go to the pad, tried to put it off.
There was no evidence of him being at the pad after the shooting.
Mr Mathieson said Maori dictionaries gave the definition of rakau as a stick or gave a secondary meaning of weapon.
It did not mean firearm.
The jury could not be sure that Kaimoana knew of the presence of firearms or any gang objective at the pad.
Alistair Clarke, counsel for Joshua Robin, said his client was a Mongrel Mob prospect at the bottom of the gang ladder.
Not one of the 45,000 text messages uncovered by the police was sent to or from Robin.
Robin was not important and there was no need for any gang member to contact him.
Robin was at the pad but was asleep.
"That's as much as we know."
Robin liked to talk things up and, according to one witness, was a big talker - especially when the topic had anything to do with the Mongrel Mob.
"He was a little fish with a big mouth, in the wrong place, at the wrong time," said Mr Clarke.
- The Gisborne Herald