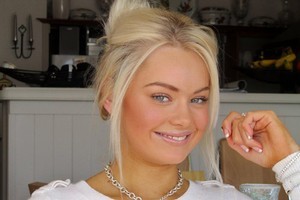 Emily Longley could have been rendered unconscious in seconds if she was strangled in the "sleeper hold", a British court has been told.
Pathologist Dr John Payne-James said such a hold could have rendered her unconscious extremely quickly and could result in death.
Emily, a New Zealand student, was allegedly strangled by boyfriend Elliot Turner, 20, in a jealous rage at his parents' home in Bournemouth, Dorset.
Turner has been charged with her murder and with trying to pervert the course of justice, and is on trial in the Winchester Crown Court.
A jury has been told the wealthy jeweller's son was jealous and possessive, and attacked Emily, 17, on May 7 last year during a drunken argument.
Dr Payne-James was asked to define the effects of the hold, which another pathologist earlier said he believed may have killed Emily.
In the hold, the neck is compressed by a bended arm.
Prosecutor Timothy Mousley asked him: "If Elliot had been on top of Emily, would it have limited her movement?"
Mr Payne-Jones: "It would have made movement more difficult for her."
Mr Mousley then asked: "If one or more of Emily's arms had been underneath her with a man on top of her, would her movement have been limited?"
Mr Payne-Jones: "Although it's not a scientific question, it would have limited her more. She may not have been able to restrict anyone.
"The sleeper hold method reduces oxygen levels by causing the reduction of blood supply to the brain.
"This could result in death. Non-fatal effects could be fits, seizures and unconsciousness.
"Such injuries can be inflicted in as short a time as a few seconds if the blood supply is stopped."
He said that in a recent study, trained officers putting sleeper holds on 24 consenting people had rendered them unconscious in an average time of nine seconds.
He added it was possible to apply the hold and leave no marks.
The trial is continuing.
- Staff reporter