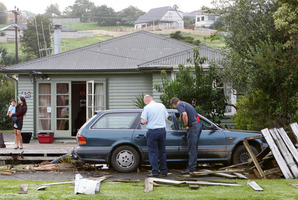 A Whangarei police officer was left with a broken hand after a scuffle with a fleeing disqualified driver who ploughed through the front fence of a family home and then tried to escape on foot.
The driver ran off through properties on William Jones Drive in Otangarei in a bid to evade police but was chased by a policeman and arrested following a violent scuffle shortly after 8am yesterday.
An off-duty officer ran to the aid of his colleague and helped with the arrest.
Senior Sergeant Cliff Metcalfe said the driver was pepper sprayed during a violent struggle to no effect and the officer suffered a broken finger.
When the driver was searched he allegedly had methamphetamine and cannabis.
He failed a drug impairment test and a blood sample was taken.
A 22-year Otangarei man is facing a raft of charges including aggravated assault, escapes custody, failing to stop and driving while disqualified when he appears in Whangarei District Court today.
Police and residents in the area say it was extremely lucky no one was hurt as children were usually walking along the street on their way to school at that time.
A woman who lived at the house, but did not want to be Cop injured in violent scuffle
named, said she had been watching television with her young son and two teenage daughters when she heard a skidding noise and looked out the window.
"I saw a car coming round the corner, skidding. Then it went shooting up on to the footpath and crashed into the fence. I thought it was coming straight into the house," she said. "The guy jumped out of the car and ran down the back of our house. A cop went running past and there was heaps of yelling and I saw a cloud of pepper spray."
Five minutes later and her two daughters would have been leaving the house for school, she said. "There are kids along here every morning. He could have killed someone and that's quite scary."
The pursuit began when the driver was stopped on a roundabout on Kiripaka Rd but fled as the officer got to the driver's door. The driver continued on Punarere Drive allegedly travelling at speeds of up 100km/h and passing cars on the wrong side of the road.
He allegedly drove through speed chicanes on the wrong side of the road before clipping a power pole, smashing into a wire fence then ploughing through a wooden fence.
For more articles from this region, go to Northern Advocate