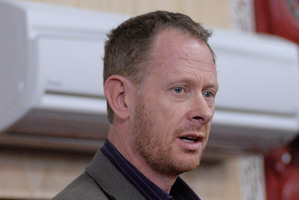 A lawyer for a mountain biker whose assault of a fellow cyclist was captured on camera has warned about the growing influence of internet videos on court cases.
In the Christchurch District Court yesterday, Aaron William Dalton, 45, admitted assaulting fellow cyclist Jordan Brizzell in a "bike rage" incident caught on Mr Brizzell's helmet-mounted camera.
Mr Brizzell - who had been trying to pass the slower Dalton while riding the Flying Nun cycle track in the Port Hills - uploaded the footage to the internet to identify his attacker, creating widespread public debate over who was at fault.
Dalton declined to comment yesterday - as he seeks a meeting to smooth the waters with Mr Brizzell - but his lawyer, Jonathan Eaton, lashed out at the "humiliation" his client had suffered "out of an incident which was a couple of guys having a spat on a mountain bike track".
"Why, just because something happens to be downloaded on to YouTube, does it become a nationwide public interest story? All we are going to find is everybody wears cameras and takes cameras because they might be able to put themselves in the media."
Last month a man was charged after video footage uploaded to the internet showed him pushing a teenager off his skateboard during a competition at Auckland's Victoria Park.
John Edwards, of the Law Society's Human Rights and Privacy Committee, said there seemed to be a growing sense that people could do whatever they wanted with footage they shot.
"And there doesn't seem to be much to inhibit that. A lot of stuff that used to be just personal disputes are now the subject of discussion in staffrooms and bars around the country.
"People have got to be careful not to suspend their questioning just because they are presented with a damning piece of video evidence."
Media law expert Professor Ursula Cheer said anyone who shot and downloaded a video that might prejudice someone ahead of a court case was taking a risk because ignorance of the law was not an excuse.
While there is generally no restriction on filming activities in public, Professor Cheer said privacy laws were beginning to intervene in rare cases where people were found to be in highly vulnerable situations.
Although Dalton has pleaded guilty to the assault, Judge Oke Blaikie yesterday agreed not to enter the conviction on his record while he is still to meet with Mr Brizzell in a restorative justice conference.
Mr Brizzell said he was open to sitting down with Dalton to try to understand "why he got so angry at me - why he lost control".
Dalton was granted bail until he reappears in court on July 23.