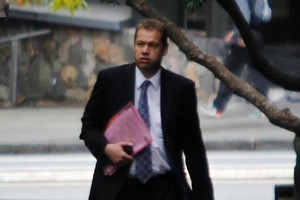 John Hotchin was back on the stand this morning discussing the Master Franchise businesses related to VTL in California and Australia and the problems they faced in 2006.
Hotchin, a former Nathans Finance director, is giving evidence at the trial of Mervyn Doolan, Donald Young and Roger Moses - also former Nathans directors - at the High Court at Auckland.
Today he told the court of the issues facing Intelligent Vending, VTL's Master Franchise in California, and 24Seven, VTL's Master Franchise in Australia, in 2006 and their dealing with VTL.
VTL, or Vending Technologies as it was previously known, developed smart technology for vending machines.
Nathans was mainly set up as a funding vehicle for VTL and its associated entities which purchased vending franchises from VTL.
The Crown showed evidence that 24Seven director Rob Seymour was finding it difficult to recruit franchisees due to a delay in vending machines being delivered to sites, and other issues such as machines breaking down and long delays in repairing broken machines.
Hotchin said VTL's relationship with Seymour was up and down, as one day Seymour would be positive as he sold a contract but the next worried about the sustainability and viability of the Master Franchise in Australia.
In an email, Seymour said he had had the Master Franchise for three years, from 2003 - 2006, and the financial performance of the VTL entity was a long way from the financial projections that were forecast.
He said it had been made clear to him by shadow director Gary Stevens, that were wasn't a future for him in VTL and he subsequently wanted the money he had invested in the company back.
Hotchin told the court yesterday that he got the idea for the smart technology that was inserted into the vending machines from when he worked as a consultant for Corporate Cabs.
The system worked from a remote- controlled motherboard that reported if an individual machine had a problem or needed to be restocked.
Before VTL developed this technology, there wasn't anything like it on the market, which lead Hotchin and co-founder Doolan to believe there was a global opportunity to roll the technology out through franchisees.
Hotchin, 51, who is serving a home detention sentence, took the stand at the High Court at Auckland yesterday to give evidence on his role as the co-founder of VTL and as a director of Nathans.
The younger brother of former Hanover director Mark Hotchin pleaded guilty to Securities Act breaches in February.
His sentence was reduced from a jail term to 11 months' home detention for pleading guilty, repaying $200,000 that could lead to his bankruptcy and agreeing to co-operate with the Crown in its prosecution of Nathans.
The other directors pleaded not guilty to six alleged breaches of the Securities Act.
The directors are defending allegations that the statements they issued concerning related party lending (to VTL), the quality of Nathans loan book, its loan management practices and its management of liquidity were untrue.
The commission claims the directors made untrue statements in the company's registered prospectus and investment statement of December 13, 2006, and in a signed prospectus extension certificate on March 30, 2007